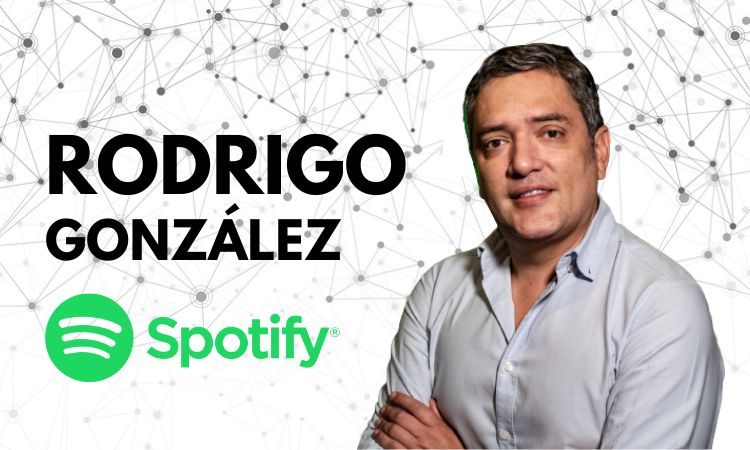 Rodrigo Gonzalez is Head of Sales of Spotify Spain, a brand that in just a few years has become a basic reference for millions of people around the world when it comes to listening to music online. In fact, Spotify has never stopped evolving, and in this interview Rodrigo will bring us a little closer to the reality of this app, its presence in Spain and its potential as an advertising medium.
You have just presented your study Sonic Science 2.0 in which you analyze the impact of music on our daily lives. How did the idea of ​​doing this study come about?
It's no secret that audio awakens something special. In 2021 we present Sonic Science, a study in which we discover why sound, specifically digital audio, has such a distinctive effect. We discovered that Spotify's digital audio generates more 'engagement' than other media such as television or social networks. We managed to draw such interesting conclusions related to the unique power of digital audio – thanks to its interactivity and personalization – that we were left wanting more.
So this time we wanted to explore the physiological impact of sound, and so Sonic Science 2.0 was born, to explain how it affects our mood and emotions and how marketers can harness the unique value of music and audio from podcasts to connect more effectively with your target audience. We have conducted this new study in collaboration with MindProber, the biometric research company, and Dr. Josh McDermott, who directs the MIT Computational Hearing Laboratory.
Among the most striking results it is found that music is an intrinsic part of our lives, much longer and in many more tasks than we might think at first. In addition, music increases the commitment to the activity that is being carried out. What type of tasks are the most frequent in which we use the music company?
Digital audio is present in people's lives 24 hours a day. In fact, the study participants claim that they performed more than 25 different activities while listening to audio on Spotify. For example, until one in five listening sessions typically occurred during their study, work and reading moments. And 18% of the listening sessions normally occurred in their moments of relaxation.
On the other hand, the study findings have corroborated that listeners' musical choices are correlated with their physical environment and activities. Thus, when people listen to acoustic music, they are in a context of concentration or relaxation, just like when they listen to more instrumental songs. Also, when they listen to "danceable" music, the study reveals that it is usually associated with physical or social activity, such as exercising, cleaning the house or going out to a party. Likewise, it also applies to everyday contexts such as cooking and even eating. Music is always present in our lives.
In the field of marketing, this relationship between activity and music is also present. What conclusions have you discovered in the relationship between music and advertising?
Thanks to both volumes of Sonic Science, we discover that listener engagement with audio encourages high ad recall. In this case, 73% of study participants agreed they are open to hearing ads on streaming audio services if the tone fits with what they are doing at the moment. In fact, the results showed that 93% of the brain's engagement with audio content transferred directly to engagement with the ad, and as a result, ads had 19% more brand impact on Spotify than on all other media.
Besides, one in five study participants said they had searched for a brand or product online after hearing about it in a Spotify adand 30% said they are likely to buy a product or service they heard about on the platform.
How can brands take advantage of the conclusions of this study when planning their audio campaigns? Can it be extrapolated to the field of podcasts?
The findings of this study offer concrete evidence of the way in which listeners use Spotify to improve key aspects of their daily lives and how brands can connect with audiences at the most significant moments and when they show the greatest involvement.
Ours is the first study of its kind to provide unequivocal evidence that listeners' music and podcast listening choices are matched by their physical environments and activities. And the most important takeaway is that listener tastes don't exist in a vacuum. People have different physical, emotional and mental needs throughout the day and are looking for audio content that meets each specific need.
Overall, this study is a good guide for advertisers who aren't sure how to engage their audience at any given moment with the right message and in the right tone. Spotify understands listener contexts and can guide advertisers on how to best engage with the people connecting to our platform, at any time of day. And this, without a doubt, gives brands the possibility of generating powerful audio campaigns to reach their target audience in a unique way.
Tell us about the advertising options within Spotify. How would you convince a brand that it's a good platform to advertise on?
Thanks to both volumes of Sonic Science we have discovered that the power of digital audio is amplified even further on Spotify. Spotify has always prioritized a highly personalized and highly interactive experience, so naturally our listeners have created a strong emotional attachment to "their" Spotify. And this makes every listening experience more memorable. Each of them is very personal and adapts to the moments in which they find themselves. In this way, Spotify is in a privileged position to understand the context of the audience.
Spotify listeners' choices often reflect what they do in real life. And, as advertisers know, context is everything when it comes to effectively reaching consumers. Spotify is well versed in listener contexts and has insights to guide advertisers on how to nail the message and choose the most appropriate moment and context on our platform.
Plus, Spotify listeners don't just remember the ads, they also buy the products. And to all this we must add that listeners stream Spotify content on the same devices they use to shop (mobiles, computers or tablets), which results in an uninterrupted funnel from brand awareness to sale.
Make us the robot portrait of your typical client, what do the brands that use Spotify to advertise have in common?
These are brands, large and small, from all sectors, seeking to connect with their audience through a type of advertising that is integrated into the user experience. They are brands that seek to understand to the person behind the device in order to send a message that is relevant and efficient.
What advice would you give brands to run a successful campaign on Spotify?
First of all, taking into account the context is essential. Consider who is going to hear your ad. Before writing, define the targeting that will be used in the campaign. Then make sure you connect with the mood and moment of that audience. The best ads take into account whether the listeners are runners, foodies, or just sleepy. Second, that the tone is close. The most important thing is that it sounds like what a person would say, not a brand. It is about making users feel that a friend is talking to them about a product. We create ads for real people, so try to write an ad you'd like to hear. And the last piece of advice would be to stick to the message. The most effective ads are the ones that present the information clearly and make users retain it long after the ad has ended. Focus on the most important aspect of your ad.
Right now you are in a moment of evolution, in which podcasts are gaining more and more prominence on Spotify. What reception do they have among users? What percentage of the total listening time on the platform do they represent?
That's right, the podcast has established itself as one of the great entertainment formats in our country and, specifically, on Spotify, they are being very well received. According to our latest report on podcast consumption habits in Spain, prepared with unique data from the platform, podcast consumption has doubled in just one year, experiencing a growth of 106% in 2022.
At present, the Spanish opt, above all, for podcasts related to the health and wellness and comedy, these being the most listened to categories during the last year. They are followed by podcasts on society and culture, in third position; news podcasts, in fourth place; and in fifth position, podcasts related to the arts. However, if we talk about the category that has grown the most this year, the news podcasts They are the ones that have increased their consumption the most, with a total increase of 130%. A fact that shows that, in addition to being a source of entertainment, podcasts are consolidated as a source of daily information to follow current affairs.
Let's take a trip back in time, how do you imagine Spotify will have evolved by 2025?
'Stream On 2023' was recently held in Los Angeles, an event in which artists, composers, video and content creators as well as podcasters from all over the world have gathered to learn about the new features and tools that will come to the platform global.
Stream On is about all the ways we're bringing Spotify to life, letting creators know we're there at every stage of their careers. We are focused on building the best home for them: a place where they can establish a career, prosper, grow, and where everyone can find inspiration through their talent. Looking ahead, we're excited to share this ambition with more creators of new formats.
Regarding Spain, it is a market in which we are growing in all audio verticals, from music, to original and exclusive podcasts, and in future formats. Audiences around the world are consuming digital audio at record rates and 60% of Spaniards over the age of 15 consume digital audio content, according to him IAB Spain Digital Audio Study 2023. There's no question that audio has become a key source of entertainment, and at Spotify we're redoubling our commitment to delivering the highest quality content and pioneering technologies for users and creators alike.
If you could go back in time, what advice would you give your 2013 self?
Change is the only thing that is constant
And what headline about the sector would you like to read in Marketing4eCommerce in a year?
"One more year, Spotify consolidates itself as the largest audio platform in the world."
quick quiz
What is the first social network you open in the day? Twitter iOS or Android? iOS App or web? App In which eCommerce and how long ago did you make your last online purchase? LiveNation And what was it? Concert tickets Last book read? The Authority, Warren Ellis Recommend us a fiction series: Succession What is your favorite thing to do that has nothing to do with digital? Gastronomy Let's spin a magic chain: Which acquaintance of yours (from another company) do you think we should interview? Because? Sandra Sotelo (PHD Media)
Stay informed of the most relevant news on our Telegram channel