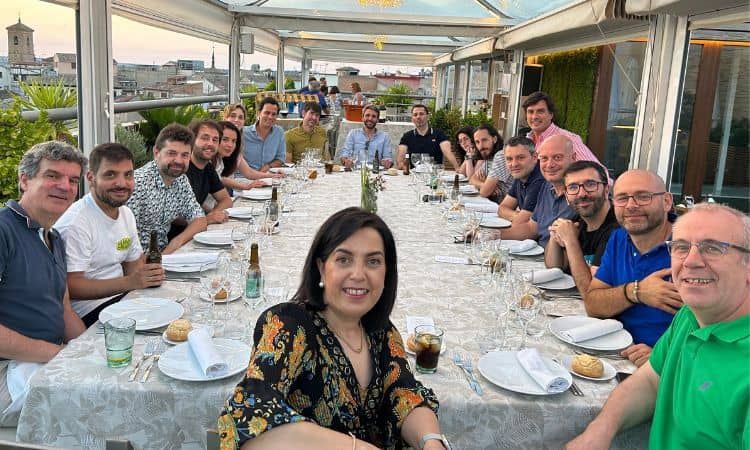 During the 15th and 16th of June we celebrated an event in Toledo that we have prepared with great care in recent weeks: ecommerce4ecommerce. It brought together a total of 17 industry professionals to exchange opinions, ideas and concerns about electronic commerce.
This was the first edition of these meetings. The idea is for it to become a 100% event for brands, with the intimacy of our Breakfast4eCommerce, but for a longer period of time in order to share knowledge transversally between managers and professionals in the sector. But above all, for learn between equals.
Two days full of learning about eCommerce
This was the day of Thursday June 15
On June 15, the day began at the meeting point, Madrid, from where we would start the trip to Toledo to start the event. At 12:30 p.m., Rubén Bastón welcomed all those attending the event, presenting how it would be organized: two work days structured in 5 sessions that focused the focus on what most affects digital businesses today: recruitment, loyalty, internationalization, logistics and marketplaces.
Each one of the participants took part in one of the five tables organized, made up of between three and four members who made initial contributions about their companies to later debate the proposed topics.
On Thursday the topics to be discussed were recruitment, loyalty and internationalization. The first of the tables, led by Joaquim Esteve; CEO of Aladini, Diego Martínez, Co-CEO of Foot District; ANDLena Bermúdez, Ecommerce Manager of Joselito; and Mauricio Martínez, Manager of Gran Velada. They talked about SEO, inbound marketing, alternative digital models, the eternal confrontation between Google and Meta, and international recruitment.
Meanwhile, the second table, led by Felipe Martín, CEO&Founder of Galileo Farma; Jordi Tomás, Global Head of eCommerce at Saba; and Pepe Martín, Founder of Minimalism Brand, highlighted the importance of loyalty branded. They told us how to build loyalty taking omnichannel into account, how to work with CRM, how to measure results and which are the best loyalty channels.
After a coffee break, it was time to talk about internationalization by Héctor Rubio, CEO of Webcartucho & Eroticfeel; Antonio Fagundo, president of Masaltos.com; and Alfonso Costas, CEO of Qisu. With them we discuss how to overcome international barriers, the advantages of different regions when it comes to selling, and how to optimize internationalization strategies to obtain the best possible results.
Friday June 16, the second day
In the morning we begin with one of the last round tables of the event. In it, led by Sandra Gerez Garrido, Ecommerce Manager of TuTratamiento; Elena Fernández, CEO of Morfeo Descanso; and Víctor Juárez, CEO of Craftelier (formerly known as Mi Tienda de Arte), the main topic to be discussed was the Logistics: how to meet the shipping times required by the client, what is the most complicated activity in the entire logistics phase, how important logistics is in the success of a business, etc.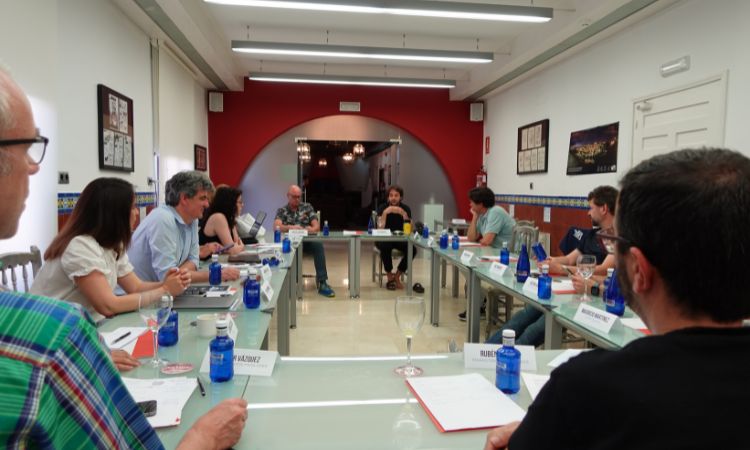 After a coffee break, we focused on the marketplaces with the table led by Manuel Hevia, General Director of Vinoselección; Nicola Lavarino, CEO of Naturitas; Jose Rodríguez, manager of Fitnessdigital; and Javier Vazquez, CEO of Complementosparaaves.com. How to optimize sales in these virtual shopping centers, what are the best tools to operate in them, and what the future of marketplaces will be like, which are living their golden age.
Ideas at the fly of Ecommerce4Ecommerce
"Advertising in Carlos Herrera cannot be measured, but it helps other channels work better". In the recruitment part, offline investments were discussed, such as advertising on television or radio. Assuming that they are more branding formats, measured experiences were noted in which these offline campaigns made the online ones work better.
"We stopped Google Ads because it had bad ROAS, and all the other campaigns got worse." Along the same lines, it was mentioned how wrong it can be to measure digital campaigns in isolation, that it is better to measure attribution more globally. Of course, between investing in TV and Youtube, better Youtube, which allows better segmentation.
"Among the clients we have psychopaths, nothing happens". In a humorous way, extreme cases of customer complaints that bordered on pathological were discussed, and measures to mark this type of incident in the CRM to manage them with greater care when those users return, even going as far as canceling their orders or recording literally the entire packaging process in order to demonstrate to customers that the package left the premises with all the products and in perfect condition.
"Instagram's days are numbered." In a somewhat exaggerated way, discontent was expressed with the general evolution of social networks with less organic reach for brands and interesting experiences were exchanged about content, both organic and paid campaigns, on TikTok.
"Influencers don't work." This phrase generated a lot of controversy. Serious doubts were highlighted in the result of specific actions with, above all, the largest influencers. This is transforming into collaborations with users with smaller followers and more stable collaborations, brand ambassadors style, with better performance searching for these profiles by hand, from within the brand teams (better than from tools with self-appointed influencers for campaigns). ). And there was talk of relationships increasingly close to affiliation models, giving influencers strong variables per sale.
legal debates. There were times to explore the limits of legal permissions to interact with users. Cookie warnings, which at the beginning of the new regulations caused data to be lost for almost half of the users and has decreased with design optimizations between 20 and 30% loss of information. The confirmation checks to accept commercial communications after the purchase, where in general the opinion that newsletters can be sent when the legitimate interest of informing a client prevails).
Apps for e-commerce. Cases were mentioned where sales via mobile applications accounted for between 20 and 30% of total online sales, as well as being powerful loyalty tools and direct access to users without intermediaries (via push notifications).
«Going international is key, but it is NOT that easy». Selling to the European Union, in a timely manner, is simple, no necessary paperwork. With a turnover of €10,000 or more, a brand must register at least at the one-stop shop, to make separate VAT declarations in each country to which sales are made. Even when you have stock housed in one of these countries, it may be advisable to have at least one representative in that country before the local treasury. In the case of the United Kingdom, it makes things easier to have a local company, to make exports to that company and that is the one that serves the British end user.
Single domain or by country? This dilemma flew over the conversation. The conclusion is that it depends on the case, although it would be very summarized: the best is domain by country, but this requires a greater effort of positioning and maintenance of each one, and the simplest: generic domain with folders by country.
Entry playbook in new countries: influencers to generate some branding + PPC campaigns to generate direct demand, supported by marketplaces for greater brand recognition. You have to give these processes time, at least one year, to draw conclusions.
"Don't let the logistics provider change your labels." At the logistics table, errors in shipments were discussed and how to avoid them, for example, by negotiating with logistics partners so that there is no subsequent relabeling of packages, which can generate errors.
"Logics, processes and automation is the most important thing." They talked about how important it is to streamline all internal processes of storage, picking, packing, CRM, invoicing… to turn it into a competitive advantage that ultimately results in greater profitability than the competition.
«Miravia must improve its search engine». At the marketplaces table, he gave time to talk about Amazon and different testing initiatives that it is running with some projects, international marketplaces, some national ones that are slackening in sales and sense… Regarding Miravia, the need to improve its internal search engine was noted, something essential to improve the user experience, although valuing the bet they are making so far in promoting the project.
All good things come to an end, but that doesn't mean it can't be repeated.
Stay informed of the most relevant news on our Telegram channel