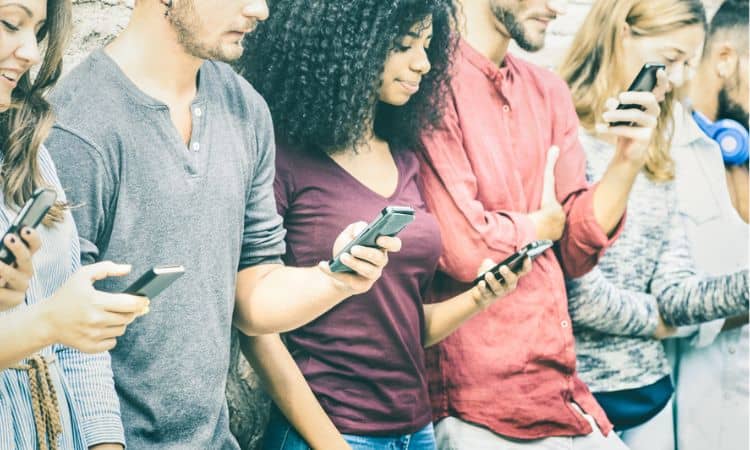 The marketing consultant The Social Media Family has released its ninth annual report on the use of social networks in Spain. This free study examines the trends and current landscape of social media in the country. The report, prepared by the research department of the digital marketing agency, analyzes the behavior of users of Facebook, Twitter, Instagram, LinkedIn and TikTok in Spain, to compare it with the activity generated in the 50 most populated cities. The document takes as a reference the information provided by users in their profiles and collected both by advertising tools and through manual segmentation.
In this edition of the report, some significant changes are presented in terms of the social networks analyzed and the segmentation criteria used.
Evolution of social network users in Spain
The 5 main social networks register 85.1 million profiles. In other words, 1.78% of the 4,760 million users globally are concentrated in Spain.
Compared to 2021, the only social networks that registered an increase in the number of users were TikTok, LinkedIn and Twitter. The first was positioned with 18.84 million users when in 2021 15.5 million were registered, while LinkedIn rose from 15 million to 17 million. Twitter, in the year of great changes and controversy after the acquisition by Elon Musk, went from having 4.2 million users to 4.39 million.
The number of Facebook users in Spain falls by 2.7%
Analysis of the data at the national level, broken down by gender, location and educational level, indicates that the number of active users on Facebook in Spain has experienced a decrease of 2.7% compared to 2021, remaining at 21.1 million. The 600,000 fewer users mean follow the line of the previous edition where a fall of 2.72% was noticed with respect to 2020.
But, How is the profile of the Spanish user of Facebook? Female (54%), married (8.5%) and between 40 and 64 years of age (51.6%). Half of the users (51.6%) are profiles from 40 to 64 years old, followed by the group from 18 to 39 years old (37.9%). The rest of the profiles (10.9%) correspond to those over 65 and under 18 (0.3%).
The sum of users from the 50 most populated cities represents 46.3% of the total, reaching 9.7 million users, a lower figure than the previous year. Of the 50 most populated cities in Spain, all except Oviedo and Barcelona have experienced a decrease in their presence on Facebook. Granada (74%), Barcelona (73.3%), Madrid (67%) and Valencia (66.9%) are the cities with the highest percentage of users in relation to their total population.
Instagram experienced a slight decrease in users
Compared to 2021, it went from 24 to 23.8 million users, representing a drop of 0.8%. The typical user profile on the platform is a married woman, between the ages of 18 and 39, constituting 53.7% of the total.
Female (53.7%), 18 to 39 years old (60%) and married (5%) is the robot portrait of the Instagram user in Spain. As for age, we can see a slight decline in the 18 to 39 age range in favor of a more adult audience: from 64.1% in 2021 it has gone down to the current 60%.
Urban areas presented an increase in the proportion of users. Grenade led in Instagram penetration, followed by Barcelona and Valencia (97.7% and 84.5%), while Hospitalet de Llobregat (11.3%), Leganés (15%) and Alcorcón (15.2%) had the lowest percentages.
Twitter celebrates two consecutive years of growth
With almost 112,000 new users in Spain, Twitter had an increase of 2.6% compared to 2021. However, the user base in the 50 most populous cities in the country decreased by around 4%.
In any case, if we look at the number of active users (those who have tweeted at least once in the last 2 months), it was registered a drop of 29.1% compared to the previous year, which is equivalent to 231,766 fewer users.
Regarding the profile type of users, 29.9% are men, 26.2% women and the remaining 43.8% have not defined this data. The data provided by Twitter does not include their age.
Two million more LinkedIn users in Spain
LinkedIn, the professional social network, has experienced notable growth in Spain with a total of 17 million profiles, which represents an increase of two million compared to the previous year, reflecting an interannual growth of 13.3%.
Male (48.8%), from 25 to 34 years old (55.2%), with more than 11 years of experience (20.5%) and employee of a large company (8.8%). This is the "robot portrait" of the LinkedIn user in Spain. If we analyze the age of the users, we can see how the percentages remain practically identical compared to 2021. Profiles between 25-34 years of age exceed half with 55.2%, although it falls by a little more than two points in favor of the older ones. young people who reached 19.4% this year. The top 3 cities with the most profiles are Madrid (3.5 million), Barcelona (1.8 million) and Seville (560,000).
Regarding the sectors most represented on LinkedIn in Spain, professional services, manufacturing, corporate services and hosting services stand out, which represent 12.3%, 10%, and 5.4% respectively.
TikTok registers more than 20 million users in Spain
TikTok has a large number of users in Spain, with a total of 18.84 million users over 18 years of age, although this figure could reach 22.1 million if underage users are included. This user is predominantly female (56.9%), between 18 and 24 years of age (36.3%). More than 6 million users, that is, 36.3% are located in this band.
The categories that most interest these users are news and entertainment, personal services, and beauty and personal care, with a high percentage of interest in each of them (84.1%, 78.4%, and 77.0%, respectively). Compared to the previous edition, there are three sectors that stand out for their growth: electronic commerce (+3.5 million profiles with this interest); news and entertainment (+3.2 million) and business services (+2.4 million).
what happened last year
In its 2022 edition, the study included that despite the fact that the family of Goal (Facebook, instagram and WhatsApp) maintained a broad dominance in the social media landscape, both globally -with almost 7,000 million users between the 3 platforms- and locally -in Spain they reach an estimated 81.5 million users-, its evolution over the Spanish ecosystem had decreased since 2018, when it had 24 million users. Thus, Facebook was losing relevance especially among the younger population, with a year-on-year drop of 4% in users between 18 and 39 years of age.
Twitter broke its trend of stagnation and decline of the last four years, while Instagram was positioned as the social network with the highest growth rate in this year's study, with a 20% more users compared to the previous year. In the case of LinkedIn, the robot portrait generated for the study showed the Spanish-type user as a man between 25 and 34 years of age, with 11 years of experience in his field and a job in a large company.
One of the biggest surprises in recent years in the social media ecosystem was the rise of TikTok. This short video platform showed rapid growth, reaching 1,000 million users in its first 5 years of life. In 2021, in Spain it had an estimated 15.5 million users between the ages of 18 and 55+.
Image: Depositphotos
Stay informed of the most relevant news on our Telegram channel