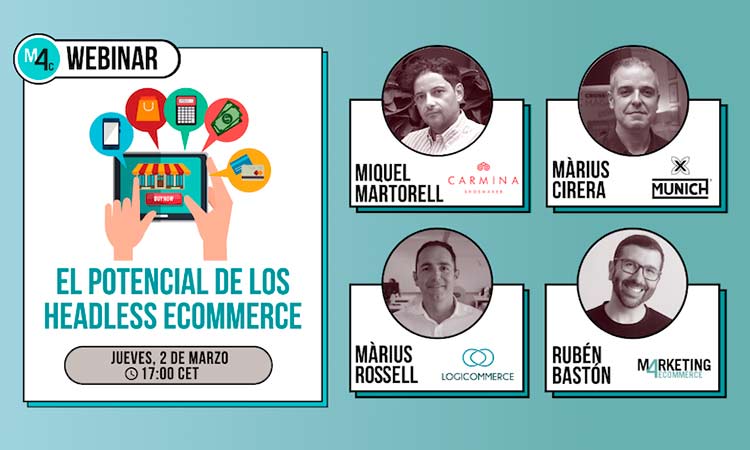 Electronic commerce has experienced exponential growth in recent years, and more and more companies are joining this trend. However, the competition is fierce and to stand out in the market it is necessary to offer an impeccable shopping experience. That is where Headless Ecommerce comes into play, a technological solution that promises to revolutionize the way in which online commerce is conceived. In this webinar we will explore the potential of Headless Ecommerce and how it can help companies improve their customers' shopping experience and differentiate themselves from the competition.
To talk more in depth about this topic, next Thursday March 2 at 5:00 p.m. CET we will organize a free webinar to analyze the potential of Headless Ecommerce and how can you help businesses to improve the shopping experience of its customers and differentiate itself from the competition.
I'm in for the Webinar!
For this, we will have three referents of the sector to comment and analyze this topic. They will speak to us from their own experience offering us the best practical advice:
Marius CireraeCommerce & Digital Manager at Munich.
Miquel MartorelleCommerce & Marketing Manager at carmina shoemaker.
Marius RossellCEO of LogiCommerce.
Ruben Bastondirector of Marketing4eCommerce. In this webinar we will talk about what Headless Ecommerce is and how online stores can use it. Carmina Shoemaker 3D customizer. Logicommerce VS other platforms. Omnichannel management. How to improve the user experience.
As you can see, it will be a webinar full of interesting learning for your business strategy, from the hand of great leaders in the eCommerce sector. Take advantage of the opportunity to continue learning and sign up!
I'm in for the Webinar!
Stay informed of the most relevant news on our Telegram channel