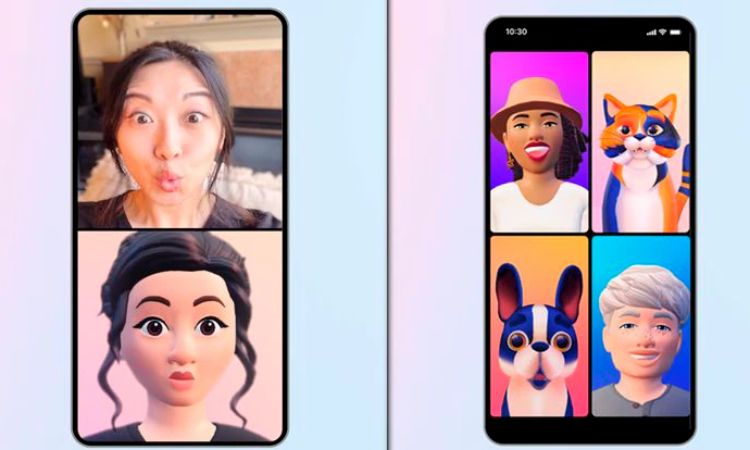 Meta, parent company of Instagram, Facebook and WhatsApp, has announced some avatar-focused updatesso that these clever representations take more prominence in video calls and other functions.
Meta avatars come to video calls
The first novelty is that now the avatars can replace you in video calls in a Messenger or Instagram chat. In this way, the video call experience offers new possibilities and you can attend them in your pajamas or just woke up from a nap without anyone noticing. This function will be Available for iOS and Android operating systems.
The procedure could not be simpler, it is only necessary press the Avatar button after starting a video call and select the avatar that you have created, which will move to your rhythm, imitating your posture and lip movement, while the background is neutral. In addition to personal avatars, you can choose between animal models, such as cats, dogs, llamas or owls, although these cannot be customized.
Not quite camera-ready? 🫣 You can now join video calls on @Messenger and @Instagram using your Meta Avatar. 🐶

More avatar updates 👇https://t.co/4lmV2EiDDc

— Meta Newsroom (@MetaNewsroom) July 11, 2023
It should be noted that the creation of these meta avatars is quite simple thanks to a new function available on WhatsApp and Facebook. With this update, it is only necessary to take a selfie and in seconds the app will generate various avatar options. Among which you can select the one that best suits your style, physical proportion and personality. Likewise, you will have different options available to customize your avatar even more so that it represents you much better: clothes, accessories, hairstyle, etc.
However, they plan to continue updating and improving the way they create avatars over the next few months (and years) so that Meta users can feel comfortable and relatable to the appearance of their avatar.
With this new function we want to give a more proportionate aspect to the avatars, They can be used in all Meta apps: WhatsApp, Instagram, Messenger and Facebook.
Now the stickers of your avatar are animated
To give chats more life, Meta has enabled the animated avatars stickers that can be used in Instagram and Facebook stories and reels, as well as Facebook comments and one-on-one chats on Messenger and Instagram. This new function is given because, although stickers always animate chats with friends, the fact that the sticker remained static was as if the conversation was missing something.
On the other hand, they are presenting social stickers in which up to two avatars can appear performing an action together, such as dancing or high-fiving their hands. In this way, your avatar and someone else's can interact with each other. These may be used in facebook storieslabeling the user with whom you want your avatar to interact, and in the chat between two people.
Image: Facebook Blog
Stay informed of the most relevant news on our Telegram channel