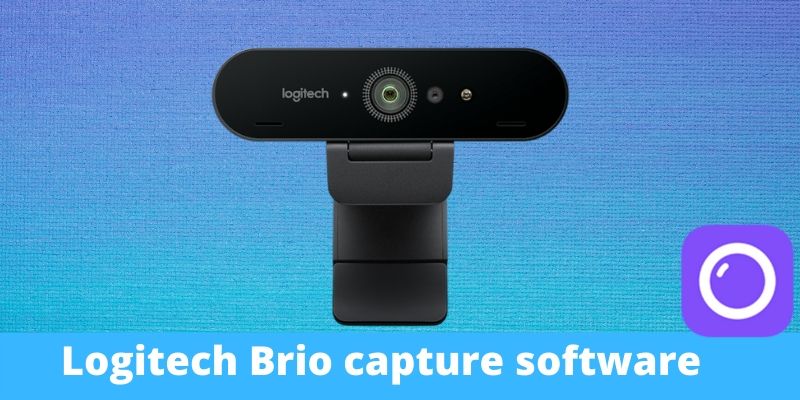 Logitech Brio 4K camera setting software for Windows 10/8.1/7 and Mac, also, the installation process is very easy. This webcam can record 4k videos in low light at 30 fps and also offer 5X optical zoom with the help of software.
Logitech Brio webcam is compatible with the Logitech capture software. Through the capture software, you can remove background, adjust color settings, and record video with audio as well.
So, if you are looking for Logitech brio background replacement software and want to access all the features of this webcam, then, installing the capture software will be very beneficial. I always recommened my article reader to download software from official Logitech website. For you ease, I have provided official website software download link at the end of the article.
Features of Logitech Brio webcam
Nowadays, communication is a vital part of everyone's life. Concerning the clear communication, the webcam is used to connect with people living in distant places from their closed ones. Through, the webcam, you can easily use both audio and video calling facility which helps in better communication.
The Logitech Brio webcam is the most used technological advanced webcam that includes 4K HD camera for clear and smooth communication.
Let's have a look at the amazing features of Logitech 4K ultra HD webcam:
The Logitech Brio webcam has been equipped with the very trending 4K ultra HD camera for recording or streaming crystal-clear video. This webcam delivers high-quality video at 1080p resolution on both 60fps or 30fps accordingly. For getting every detail of the video content or during video calling, Logitech Brio's 5x zoom will help you.
Secondly, this brio webcam has been featured with the new RightLight 3 technology which makes you look good in the video content. Irrespective of low light surrounding or bright sunshine, Logitech Brio webcam's RightLight 3 and HDR adjusts the light adjustment for perfect video streaming or recording accordingly.
It has the best security system accompanied by Windows 10. You don't need any security pin or password to get logged in. Just, you need to see over the Logitech's Brio lens for your facial recognition.
You can have three angles (65, 78, 90 degrees) for your video recording or streaming. For a group video conference, you need to choose a 78- or 90-degree angle and for a single user, choose a 65-degree angle.
This Logitech Brio webcam can be mounted on the LCD screen or your PC. It has an adjustable clip for placing it anywhere accordingly. Even, you can also place it on tripod stand for recording video content.
About the software for Logitech Brio on Windows 10
With the help of this software you can access all the features of Brio webcam. If you have another webcam other than Logitech Brio on your computer. Then through this software, you are also allow to record video and captures. Also, you can put both webcam record on a single screen.
This webcam offer studio style controls, through Logitech capture software, you can Quickly apply filters, transitions, live text overlays and apply borders to videos, Chroma Key controls to quickly remove video background and much more.
The capture software also work with Logitech C920 and C922 webcam.
Supported Operating Systems: Windows 10, Windows 8.1/8, Windows 7 (32bit and 64bit for all OS)
Device Type: streaming webcam, Driver File Size: 86.7MB
Driver File Name: Capture_2.00.226.exe
Driver Versions: 2.00.226
Logitech Ultra HD Pro Win10, Win8.1 and Win 7 Driver 
Supported Operating Systems:  macOS 10.14 or above
Logitech Capture Macintosh Driver
Process to download Logitech Brio 4K webcam software for Windows 10
Now, if you are worried about the perfect software require for Logitech Brio webcam. Then you need to patient during the reading of this section. In this section, we will discuss the steps required to download logitech brio 4k software for Windows 10:
Note: before downloading or installing the software, check whether the driver is installed or not. Let's see how you can check this
In Windows 10, search for "device manager". Click that device manager will pull open.
Now, in the device plugged in to your system check for "Imaging devices". Under "Imaging devices" you will find "Logitech BRIO". If you don't find your BRIO camera here, then, update the driver.
After checking the Logitech BRIO driver, let'e move towards installing camera setting software.
First, navigate to https://support.logi.com/.
Then, select your device type "Webcams & camera" and search for "Logitech Brio HD Webcam "within the search panel.
Go to the "downloads" section under the selected device category.
From "Downloads", Click on the download button given under "Logitech Capture".
Double click on the downloaded file after downloading. A window will appear.
After downloading the software, now double click with the mouse  on "Capture_2.00.226.exe" file and follow the instruction.
Then, select your preferred language while accepting the terms & conditions for the installation process.
After that, click on "Finish". Restart your PC for better working of Logitech software.
After the detailed study on Logitech Brio webcam, you might have cleared all your confusion with it. Now, follow the above steps to download the software in your device and enjoy it.
Logitech Brio software download for Windows 10
As I discussed with you earlier, Logitech Brio is compatible with Logitech capture software. Through, this software you can customize webcam resolution, zoom, focus, brightness, and more. Hope, you guys you have to understand how you can install Logitech capture software for Brio webcam compatible
| | | |
| --- | --- | --- |
| File name | Support OS | Software Link |
| Logitech capture software | Windows 10/8.1/7 64 bit and macOS | Visit now |
| Logitech G HUB software | Windows 10/8.1/7 64 bit and macOS | Visit now |