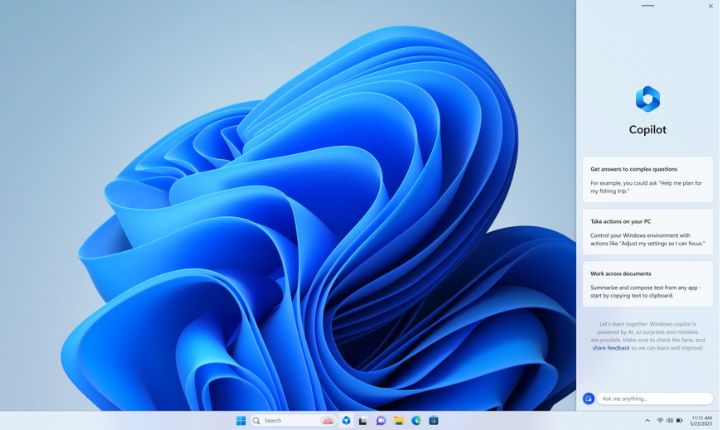 Microsoft has revealed the arrival of Windows Copilotthe virtual assistant that is based on Artificial Intelligence and will soon be available to all Windows 11 users. Thus, Windows becomes the first platform of PC that provides centralized AI assistance for its users.
Paired with Bing Chat and some extensions, users will now be able to bring their ideas to life, enabling complex projects and collaborations to take place instead of spending more time searching, launching, and working across different platforms or apps.
Windows will seek to facilitate the user experience through Copilot
Users will be able to find and access Windows Copilot easily, as the button will be visible on the taskbar center. Once open, the AI ​​Sidebar will stay open across all apps, programs and windows, always available to act as personal assistant. It will give each user the power to personalize their settings, as well as seamlessly explore and connect through their favorite apps.
Similarly, "copy and paste," "Snap Assist," "crop," and "personalize" will continue to be available, along with any other platform features, and these tools will be greatly enhanced with Windows Copilot. For example, when you use the "copy and paste" tool, you will not only get the desired result, but you can also ask the AI ​​to rewrite, summarize or explain the content.
"Just like you would with Bing Chat, you can ask Windows Copilot a range of questions from the simple to the complex. If I want to call my family in Cyprus, I can quickly check the local time to make sure I'm not waking them up in the middle of the night. If I wanted to plan a visit to Cyprus, I can ask Copilot to find flights for my family and accommodation for the winter holidays.", notes the company through a statement.
Other functionalities
By appearing as a sidebar on your desktop, it is important to note that Copilot will not replace the search bar in Windows 11, since it will have its own button to activate it. Also, being your own virtual assistant, you can ask it to carry out different activities, such as adjusting your settings to be able to concentrate.
In addition, as a complement to the AI, the company announced that web developers will find Windows Copilot very useful, since they will be able to add Bing or ChatGPT extensions (plugins)having access to augmented AI features and experiences.
Windows Copilot will be available in its test phase starting in June, and will later be available for use by other Windows 11 users.
Stay informed of the most relevant news on our Telegram channel