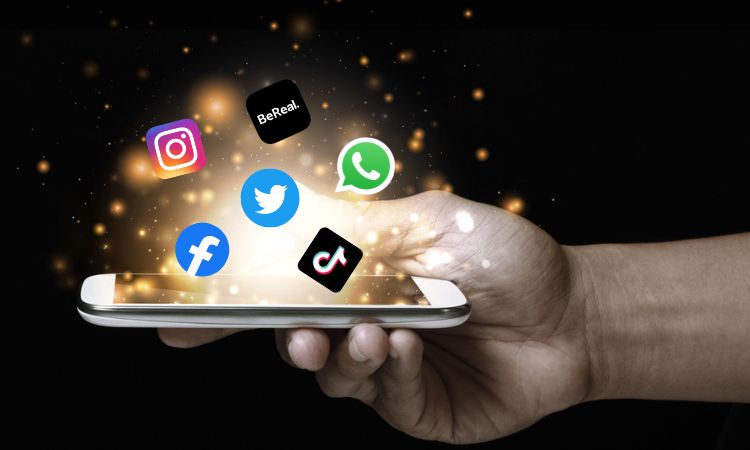 Today, social networks are waging a true titanic war to attract the attention of as many users as possible. In this war to be in the spotlight, we find social platforms copying each other, betting on new technological tools or creating more monetization channels for digital creators. But a very important question is Do social applications still have ground to continue growing?
Mobile data analytics provider, data.ai, has released its annual report State of Mobile 2023, which reveals that the demand for mobile applications accelerated during the past year and their downloads have risen to 255,000 million, while users spend up to 5 hours a day on them. In this sense, we want to leave you a list with the social apps, which have experienced the greatest growth in downloads over the course of the previous year, both in Spain and globally.
Social apps with more growth in Spain
TikTok Telegram WhatsApp Instagram BeReal Facebook Pinterest Snapchat Twitter TikTok Now
Taking into account that TikTok already held the title of the most downloaded social network in the world in the first quarter of 2022, it is not surprising that it is crowned as the app with higher growth of downloads in Spain. And, is that, the short video platform has arrived to change the rules of the game, making everyone want to copy it.
Although, truth be told, Bytedance, the parent company of TikTok, has also sinned in borrowing ideas. It has set its sights on the French company BeReal (which is in fifth place), to create TikTokNow, which has reached this list, occupying position number 10. It is clear that TikTok's attempt to weaken BeReal has come with a strong footing, in part thanks to its aggressive promotion strategies, although it still has a way to go (five positions at least ) to travel to unseat it.
The fastest growing social apps in the world
Instagram TikTok Facebook WhatsApp Snapchat Telegram Facebook Messenger Twitter Pinterest Kwai
Despite the fact that TkTok occupies the first place of applications with the highest growth in downloads in Spain, the position worldwide is taken by Instagram, leaving the Chinese app in second place.
It is very curious to see in this world list Kwai, one of TikTok's strongest rivals in the Asian market. Although both applications are based on the dissemination of short videos of all kinds, Kwai stands out for the way in which his algorithm has been configured so that the content of all its users, including those with few followers, is seen. While TikTok shows the content that gathers the most views, likes, and comments.
Similarities and differences with the markets of Spain, France, Italy and the United Kingdom
we keep talking about TikTok. And, it is that, it has managed to position itself as the application as the app with the highest growth of downloads in the European markets of Spain, Italy and the United Kingdomwhile in France it ranks second.
Another very interesting fact is that Facebook occupies the same place (number 6) in Spain, France, Italy and the United Kingdom. While your instant messaging app, facebook messengerranks 7th in the English and French markets, 8th in the Italian market and does not appear in the Spanish.
In the United Kingdom list, at number 10, an application that was very successful during confinement, but is now more neglected, sneaks in. Is about Discord, a freeware instant messaging app for voice, video and text chat.
Finally, in the list of Italy there is an application that has caused a lot of furor on the internet. Is about ngl (by the acronym Not Gonna Lie, I'm not going to lie to you), with which it is possible to send and receive anonymous messages on Instagram.
Image: Depositphotos
Stay informed of the most relevant news on our Telegram channel