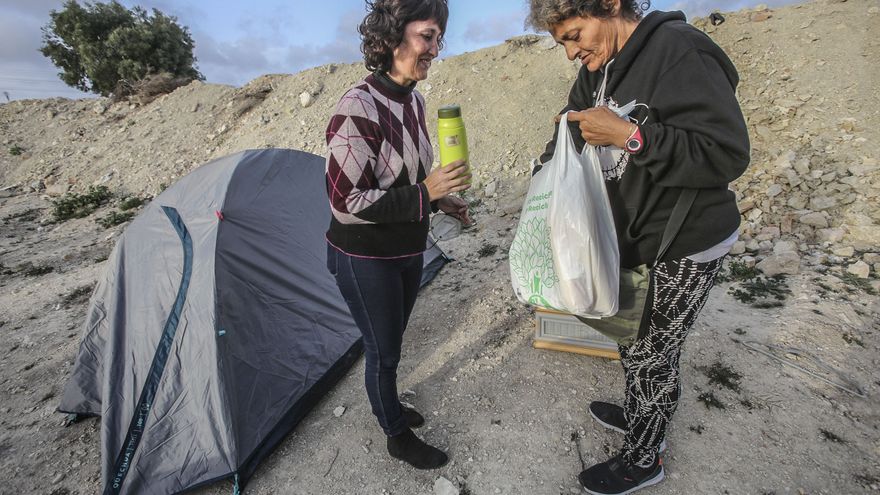 Suddenly evicted from their home. That is what Águeda Padilla and María Teresa Serrano experienced only a few days ago when around midnight four police officers approached their tents to inform them that they had to leave that place, as the affected women themselves recounted. In the middle of the field they lived, where they had tried to create a home between donated goods and others collected on the street. The cleanliness of the area that they maintained and the quiet life without altercations that they sought fleeing in the streets of Alicante were not enough reasons to have to look for another place to settle.
As they explain, due to the lack of electricity that could provide lighting, their schedules are marked by the Sun, so they get up early and go to bed early. For this same reason, Padilla explains that they were caught off guard by the arrival of the agents at those "untimely" hours. Once there, they were informed that the land on which they had settled was public property, and they were recommended to move to another privately owned plot, where a court order was required to evict them following a complaint by the owner.
This action by the municipal police force occurs, they say, days after the publication of a report published by this medium to show how they lived. The agents, adds María Teresa, gave them 48 hours to leave the place, fear had already made "we did not sleep all night". The next morning they got down to work to try to move everything they had, mainly the tents, their main refuge. After several trips of a forced move. Now they trust that they can live in peace without anyone bothering them, so the new settlement is already trying to become a home again, within what the harshness of life in the air allows them.
From the Alicante association Cometas y Sonrisas, one of the many that collaborate to make street conditions more bearable, its president, Paqui Moya, explains that they have had to get tents again, some of them abandoned, others second-hand. They did not have time to remove all their belongings, because the days of margin had not yet passed and what little they had left was found "destroyed" when they returned, all this is called "aporophobia", clarifies Moya, who also regrets the new city ​​council ordinance against begging.
In this sense, Paco Serrano, one of the volunteers from Cáritas and Acomar, who also collaborates in this task, He assures that there is talk of fines "from 750 euros" to those people who, like him or his colleagues, give food to these people who do not have a home in which to take refuge. To this he adds, "the City Council's social resources are not helping at all."