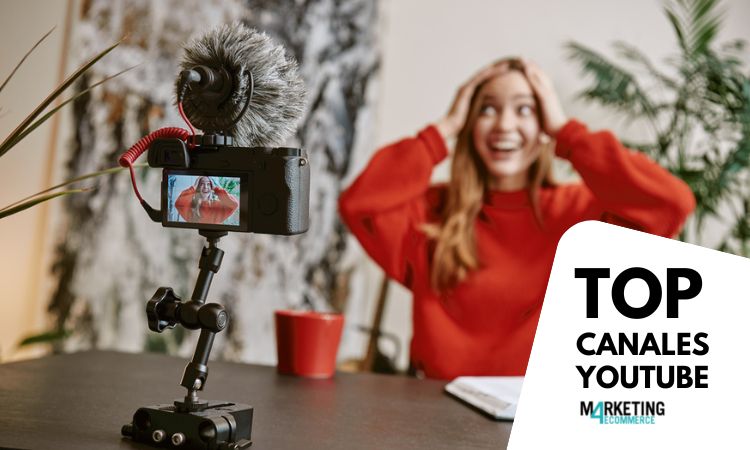 We have already talked to you about the most followed youtubers in Spain and the youtubers in Spanish with the most followers, but it is true that despite the language or culture barrier, there are YouTube channels that have managed to penetrate viewers, achieving worldwide success.
In this sense, we wanted to expand our frontier to create the Top 10 most followed YouTube channels in the world. Results are based on the number of cumulative subscribers (as of 09/09/2022).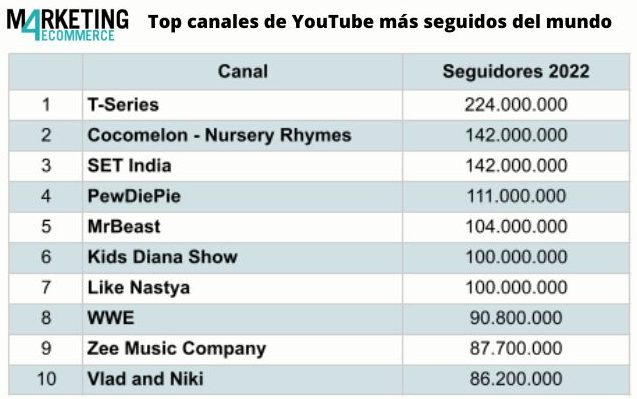 The first place on this list is headed by this channel from India, belonging to the music label Super Cassettes Industries Private Limited (SCIL). Its content is based on music videos, Bollywood movie trailers and short films.
Since it was created, it has maintained strong competition with PewDiePie and Cocomelon, but has currently established itself as the YouTube channel with the most subscribers of all time by accumulating over 220 million subscribers and earning more than 3 million subscribers a month.
This is a children's channel, which is characterized by creating 3D animation videos, while singing traditional nursery rhymes and original songs.
It was created in September 2006 and today has 142 million subscribers. In it you can find songs in English, Spanish and Portuguese, which allows you to gain many more views worldwide. Its success has gone beyond YouTube by breaking into the top 10 Netflix playlists.
His strongest competition has been PewDiePie, whom he managed to beat on April 25, 2021, thus becoming the second most subscribed YouTube channelbeing surpassed only by T-Series.
Although it ranks third on this list, is the second most followed YouTube channel in India. It belongs to Sony Pictures Networks India, a subsidiary of the Japanese company Sony Corporation, and today accumulates more than 142 million subscribers, earning around 2 million subscribers weekly.
Its creation dates back to 2006, only a year after the launch of YouTube, although they did not start uploading videos until 2009. Their content is mainly based on feature films and famous movies.
This channel is owned by Swedish Felix Arvid Ulf Kjellberg and after strong competition with T-Series and Cocomelon, today it is consolidated as the fourth YouTube channel with the most subscribers, with 111 million. Kjellberg created a first YouTube account called "Pewdie" in December 2006, but after forgetting the password he created "PewDiePie" on April 29, 2010.
Initially, its content was based on gameplays, but after the exponential growth it experienced between 2012 and 2013, when it became the channel with the most subscribers in the world, its content diversified into vlogs, short films, and comedy shows. Between 2014 and 2017, it was the YouTube channel with the most views.
The channel is owned by the American Jimmy Donaldson, who began to venture into the digital world in 2011, at the young age of 13. Today, at the age of 24, MrBeast has gathered 104 million subscribers, achieving the platinum plate at the end of July 2022.
Initially, its content was Let's Plays and videos where it estimated how much the wealth of youtubers amounted to. Currently, their videos present challenges and bets between unknown peoplewhere he gives away large sums of money thanks to his many sponsors.
Until now we have talked about channels belonging to companies or adults, but this channel belongs to Eva Diana Kidisyuk, a Ukrainian girl who is only 8 years old, who has gathered 100 million subscribers thanks to its children's role-play-oriented content, where he plays with his older brother Roma and their parents. Both his and her family's channels have been dubbed into Hindi, Japanese, Indonesian, Russian, Spanish, German, Portuguese and Arabic.
Diana's parents, Olena and Volodymyr Kidisyuk, started making videos for YouTube as a hobby and opened Diana's channel in 2015 as a way to share videos of the girl with her family and friends. But the channel grew so fast that, to 2017, both parents quit their jobs and focused on their channel, moving to Miami, Florida.
Diana has an animated series called Love, Diana – The Princess Of Play, with which mobile games and toys have been released. The series is also distributed on Amazon Prime Video, The Roku Channel and Samsung TV+.
Like the previous case, this channel belongs to an 8-year-old girl: Anastasia Radzinskaya. Who has become quite a sensation, thanks to his 100 million subscribers on his main channel and his foray into TikTok.
Anastasia's story began in a somewhat tragic way because when she was born, in 2014, the girl was diagnosed with cerebral palsy and the parents begin to record videos of the girl doing therapy to keep friends and family informed of the progress.
In a short time, after a great growth and a total recovery, started creating toy unboxing contentto later diversify into role plays, visits to parks and the sale of their own products, such as toys, clothes and books.
The official channel of World WrestlingEntertainment, was created in May 2007 and currently brings together 90.8 million subscribers wrestling lovers. Its content is based on uploading fights, interviews, specials, summaries and segments of the fights.
In July 2022 it reached 70 billion cumulative views in all his uploaded videos, a milestone that marked the channel.
Once again from India comes Zee Music Company, an entertainment channel known for distributing record and film content and which today has 87.7 million subscribers. It is the third most subscribed Indian channel.
The channel was created in 2005, but his first video was uploaded on July 13, 2009, and since then upload a daily video. In September 2013, it reached the first million subscribers, becoming the first Indian channel to do so.
Another children's channel, in this case a Russian-American channel, which revolves around the outdoor adventures of brothers Vladislav and Nikita. The children's parents also act in the videos, in a wide variety of settings.
The channel gathers 86.2 million subscribers, beating Taylor Swift's channel in 2019 and Dude Perfect in 2020.
Stay informed of the most relevant news on our Telegram channel