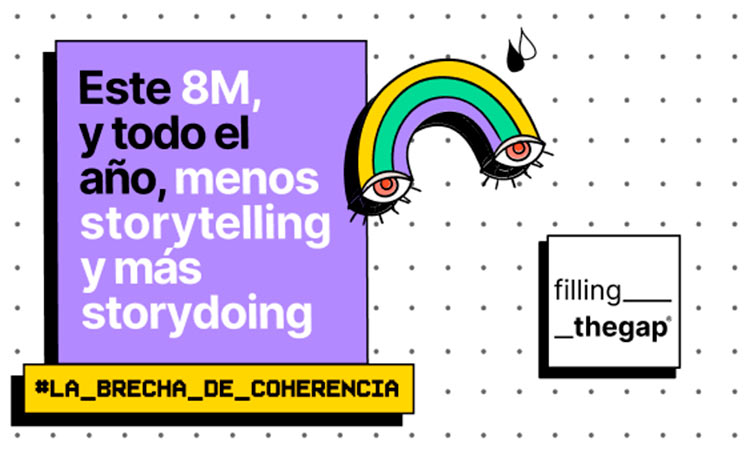 Fillingthegap was born at the end of 2021 as a project for the community that, through its newsletter and social networks, tries to promote a change in the sector and demonstrate that another way of advertising is possible. Iria Otero, the creator, begins this interview by saying that she is «one of the many women who work in advertising«. Specifically, Iria has been working as an advertising creative for 14 years. "I'm not here to talk about my book but to talk about ours, the one we share as an advertising sector because I think we can and should improve it," she adds.
In the first mailing of the newsletter you explain the reasons why it took you so long to create this space. Why did you decide to create it? Was there something that made you click?
I could excuse myself for endless things: the fear of saying things out loud and closing doors, the layers of makeup that exist in the sector, the lack of perspective, conformism in times of crisis, the urgencies that prevent you from thinking further of what you are doing for yesterday… but I think it was something more visceral: the feeling that many in this sector, more than clicking, have made catacrack!
At that point I had three options: settle, live installed in the complaint… or break the silence and try to do something to change it. Yes, it is true that there was something that definitely pushed me: discovering that in Latin America they have been focusing on other types of advertising for years and, what is more important, it was already being done.
Fillingthegap is the name of this project aimed at advertising professionals who are aware of and willing to change the way messages are communicated in this profession. Why did you decide to call it Filling the gap?
Because I think there is a huge "gap" in advertising that is not being talked about and that we must begin to fill. A lack of diversity, inclusion, coherence between what is said and what is done, a lack of responsibility for the impact of what we do, equality, salary transparency, gender perspective training, a lack of quality by living in constant urgency… And while we continue to be distracted by self-promotion, the latest report from the Ipsos agency places executives and executives Advertisers in the queue in the Global Confidence Index, only surpassed in distrust by the political class…
What is the objective of this project?
My goal is for it to be a useful tool for the community, to make visible those gaps and silences that we were talking about, but also to provide keys, data, references, ideas, proposals… to be able to do it. Fillingthegap is not a space for complaints (although what happens is also named as the first step for change) but for advertising transformational people who believe that this profession has a superpower to promote real transformations within our sector and in society. The ultimate goal is to empower ourselves as a group, promote the emergence of communities, action networks… because there are many things that cannot be carried out from the individualism of each one of us. You have to join.
But I'm not going to lie, there is also a selfish goal with all this: to learn during the duration of the trip.
What do you think of Purplewashing? Do you think there are companies and brands that take advantage of feminism to profit during March 8? How can we identify these "cloaked ads"? How can companies show that they are in favor of the feminist struggle without falling into Purplewashing?
Just the last newsletter talks about this topic. I think there is a huge coherence problem and that is where, in my opinion, we have to focus. Brands can lead and accelerate social changes, get out of gender stereotypes and promote new views… In addition, we live in a time when consumers demand brands that are not neutral, that are aligned with our principles and values.
But all this can return in the form of a poisoned boomerang if there is not a rational and cultural structure behind it that supports that message 365 days a year. Quick example: there are companies that proclaim feminist messages on 8M but pay their employees scandalously low wages. I think the key to not doing purplewashing is very simple: to build your storytelling you have to first analyze your storydoing. If it matches, go ahead. If not, start changing it or join something that is really representative of your brand.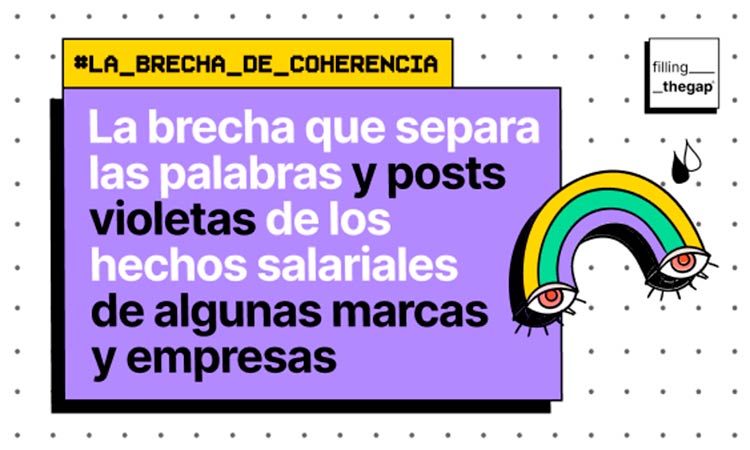 In your second mailing, you provide data from this study on women and advertising in Spain in 2020 and bring out some data such as: 75.6% of cleaning ads, 78.5% of cosmetics and fashion, 65% of food and beverage products are carried out by women. In addition, women appear in 4 out of 10 ads as housewives. Do you think that this representation of women in advertising helps to perpetuate stereotypes and gender roles that are harmful to the socialization of women?
Completely, stereotypes in advertising contribute to perpetuate asymmetric schemes of power, social roles, gender inequality… symbolic violence. To correct these data, we must begin to do self-criticism and train ourselves in the gender perspective for a change of mentality in all the people who work in advertising. The Micaela Law Project in Argentina is very interesting, with mandatory training in gender perspective for advertising professionals.
We must also review advertising legislation and self-regulation because an important factor is being overlooked: repetition and frequency. As Isabel Menéndez says, "the fact that a cleaning ad is starring a woman does not have to be sexist in itself"–it will not be considered illicit advertising–"but if 80% of the cleaning ads are starring women, we are facing a dangerous stereotype.
What do you think about the advertising that is done in the fashion, beauty, cosmetics, menstrual products and hair removal sectors? Is it sexist? Why?
The problem is in the promises of many of these products based on a single beauty, a single type of body, skin, color, lifestyle, success, happiness. An unattainable promise for most women (and girls, let's not forget). It is not good news that this pressure now begins to extend to men as well… What would really be good news is that advertising changes from the aspirational model to the identifying model.
And you will say: "I don't want advertising that tells me what I already am". What if that brand, instead of generating frustration in the medium term for not meeting your expectations of eliminating wrinkles or "accelerating your youth", connected with you because it is honest, telling you about the real benefits of that product without falling into magic and talking about a healthy, flirtatious, diverse old age…? Regarding menstrual and hair removal products, I think we have to break taboos and, once again, come down to reality. Unicorns, color parties, "let nothing stop you"… What are they talking about? I do not empathize with a single sales pitch of these ads.
Another of the initiatives that you have launched together with this project is this anonymous salary survey on advertising in Spain in 2022. What is the purpose of this survey? What conclusions have you reached when you see the results?
The objective is to break the salary taboo in advertising and claim the transparency of salary bands as a mechanism for a real correction not only of the gender gap, but also of precariousness in general.
When I started looking for data with the newsletter, I realized that there were many studies on insubstantial things (the best marketing expert, the most awarded creative…) but only two sad Advertising Population Studies. There is a lot of information missing to make a real map of the situation in the sector. From here I encourage universities and other organizations to give us a cable. Fillingthegap it has a very limited capacity and, therefore, this survey does not pretend to be a rigorous study from which we can draw great conclusions in terms of absolute figures. But for me it is incalculable value to be able to enter that table in an open and transparent way and see the reality of each one of these anonymous people (there you can see the real "drama" of the sector).
The survey is still open, but the precarious salary or the bloody breach of the collective agreement with false labor categories in most of the contracts can already be observed. I want to take the opportunity to thank Cris Busquets for her help, she is the creator of this idea of ​​a collaborative salary table (she does it in the digital sector). Without her idea, it would not have been possible.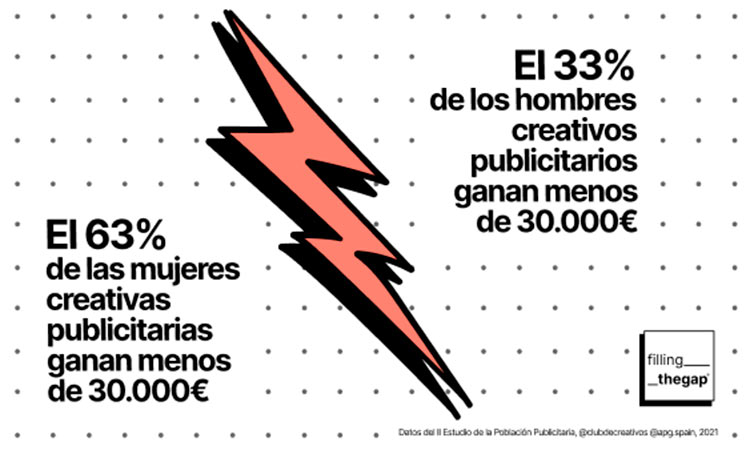 I loved the interview you did with María Martín about inclusive language, what would you highlight about that conversation to open the melon in the minds of our audience regarding inclusive language in advertising?
I am left with the fact that there is an inclusive language model that is not talked about so much that is quite easy to apply with a little practice. You have two main tools: common sense and imagination. Why talk about doctors only or double with "doctors" being able to say "medical staff"? We have to start to lose our fear, look for the maximum possible inclusion but (as I said when we talked about purplewashing) we cannot use it one day in a post and that's it. There has to be consistency behind the brand if you bet on this commitment.
In general terms, what issues do you think we should address in our sector to achieve real equality?
I sincerely believe that we have to take action now. I am concerned about what I am beginning to perceive from some groups that have real power to change things. I am referring to associations made up of the main creativity and media agencies in this country that focus on female empowerment, mentoring, mental health… In short, on individualism and the improvement of each one of us.
Go ahead, it seems very important to me, but it is not what I expect from those who have the real power to do things to change things. The problem of precariousness, the wage gap, structural inequality… and all the mental health implications they have, cannot be solved solely by putting role models on the table or mentoring. Can anyone imagine that the main measure taken by the Ministry of Labor to correct precariousness were psychology bonuses for mental health?
Can you tell us what other topics you plan to cover in the future in the Filling the gap shipments?
It's going a bit along the way but there is a pending newsletter on the taboo of the rule in advertising, another on fatphobia (within the sector and in the advertising we do). On [email protected] topics can be proposed, I encourage you to do so if you detect an advertising "gap" that deserves to be addressed.
Stay informed of the most relevant news on our Telegram channel