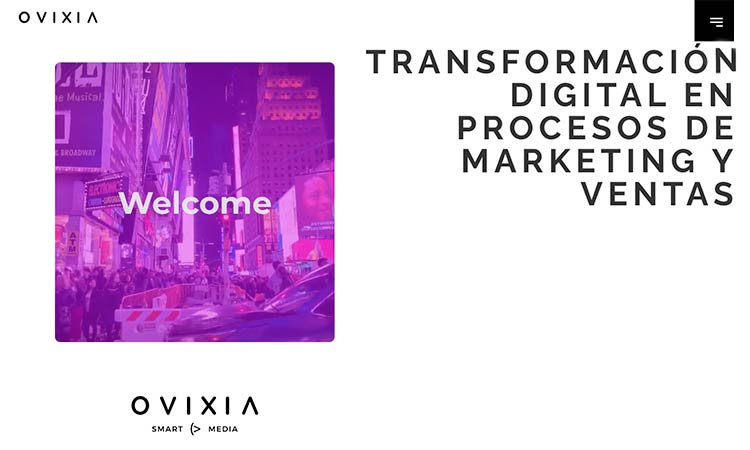 Ovixia is a digital transformation consultancy, with more than 20 years of experience, specializing in the automation and personalization of audiovisual content for marketing and sales processes aimed at all types of companies. Its objective is to help its clients create, digitize or improve communication and marketing workflows, including personalized audiovisual content in an automated manner.
Automated flows with automatically generated multimedia content depending on user behavior
With a team specialized in the areas of innovation and new technologies, Ovixia provides services to marketing and communication agencies to offer new experiences to their client portfolio and improve their profitability.
Multiple agencies nationwide take advantage of their services to implement solutions to your customerswhich use the multiple solutions it offers.
What solutions Ovixia offers
automation of multimedia content generation from any type of data feed.
Integration of omnichannel communication systems intelligent. Process optimization lead generation via Whatsapp or email marketing. introduction of the customization for email marketing campaigns, inbound and multimedia content creation.
Automatic generation of Social Ads and posts on social networks both video and static from any data feed, including CMS, CRM or eCommerce.
Automatic generation of multimedia content for RRSS after any type of event. integration of digital signage systems (Digital signage) intelligent.
You can access Ovixia's services after a prior conversation with them to assess what needs to be covered according to the client's profile.
"This digital age that we live in, being aware of new trends is key. One of the most important is customization; it is proven that communicating in a personalized way increases conversion rates, customer loyalty and satisfaction. And what better way than to automate all these customization processes in a simple way and without a steep learning curve" explains Jorge Casals, CMO and Growth Manager of Ovixia.
In addition, they offer ad-hoc solutions that draw from their developments in large project solutions such as SaaS Filkers, which we have already told you about, a software that serves eCommerce to create multimedia content in just a couple of clicks for any type of platform. With this tool you can create animated content for social networks, social ads or digital signage.
Collaborations and clients
Ovixia is part of the Canva International Developer Programwhere, as they explain to us, they will soon bring us news that will change the paradigm of simple design.
Banking, administration, textiles, telecommunications… each and every one of these projects has represented a challenge and learning. Each decade has been marked by new technologies that have been added to its catalog of solutions for communication and marketing agencies. Today Ovixia has worked and works with national and international companies, such as Primark, Inditex, Revlon, Laurella either Campus Trainingamong others.
Stay informed of the most relevant news on our Telegram channel