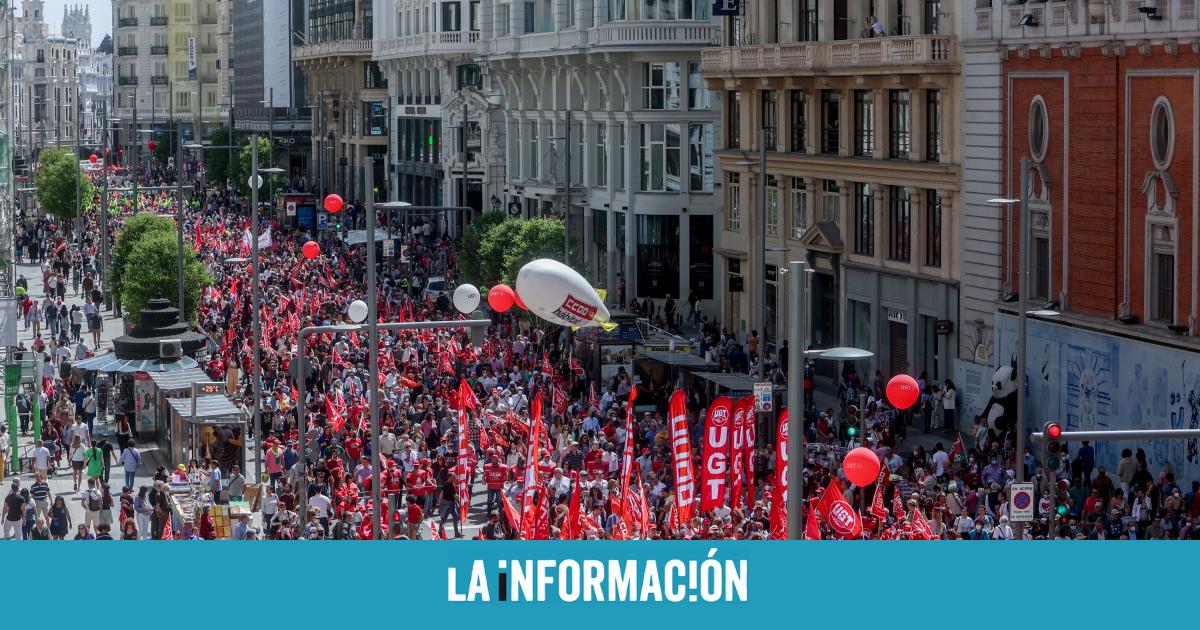 Several thousand people have marched this Sunday through the center of Madrid to demand equality, salary increases and price containment in the May Day demonstration, called by the CCOO and UGT, which number 50,000 attendees, while that the Government Delegation in the capital indicates that there are about 10,000, a fifth of the expected people. Under the slogan 'The solution: raise wages, contain prices, more equality', the unions take to this May Day wage increases as the main claim with a clear message to the CEOE employers, which they accuse of keeping collective bargaining blocked.
The demonstration, which has changed its traditional route and runs from the central Gran Vía to Plaza de España for the works in Puerta del Sol, the Second Vice President and Minister of Labor, Yolanda Díaz; the head of Education, Pilar Alegría; that of Social Affairs, Alberto Garzón, and the Government spokesperson, Isabel Rodríguez, among others. On the other hand, the same sources from the Delegation have indicated to Efe that 530 people have attended the march for this May Day AST, a hundred to the CNT and 2,000 to the CGT
With acts convened in more than 70 cities throughout the country, the unions demand that the employers sign an agreement that includes "salary formulas that guarantee the maintenance of purchasing power and wage review clauses", while asking the Government for aid to prevent workers from continuing to become poorer. This time, they have taken to the streets with the labor reform approved thanks to a tripartite agreement between the Government, employers and unions and with the Minimum Interprofessional Salary (SMI) in 1,000 euros as the main achievements of this period, to which others such as the Pension Law or the 'Rider Law' are also added.
However, the trade union organizations have already stated that they are not satisfied with these achievements, especially in the face of skyrocketing inflation, at 8.4% in April according to the latest data advanced by the INE. The unions are now seeking a salary increase and have warned the Spanish Confederation of Business Organizations (CEOE) that if there is no salary agreement for collective bargaining, there will be more labor conflict and they will "block" the development in collective agreements of aspects of the labor reform that could benefit companies.
Sordo and Álvarez maintain that their positions regarding the salary increase are moderate, since they do not claim an increase equivalent to the rebound of inflation, but an update of wages that allows workers to maintain purchasing power. However, they insist on introducing a salary review clause. Another of the demands of this May Day is the control of prices, triggered, in part, by the impact of rising energy prices, a consequence of Russia's war against Ukraine. The general secretary of the CCOO admitted on Friday the importance of the demonstration on May 1 "going well" and serving to visualize the conflicts of the workers.