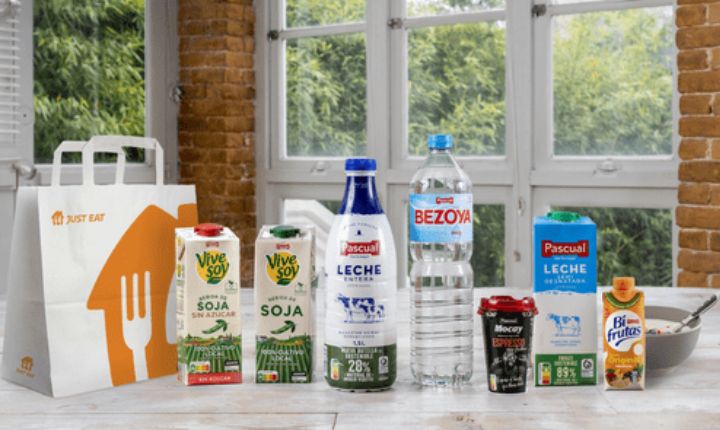 Pascual has revolutionized delivery with the help of Just Eat: the company has become the first manufacturer to have its own space and catalog on the delivery platform, an alliance that seeks to offer a better customer experience, and of course, direct sales without further intermediaries.
this alliance represents a milestone for the Spanish market as it will avoid the participation of third parties such as supermarkets or marketplaces and if successful, it could modify the traditional purchasing system as other companies could join this new channel.
Madrid users will be the first to benefit from the collaboration
For Just Eat, the commercial agreement with Pascual is the first of its kind, an alliance in which it commits to direct delivery of the brand's food and beverages. In the beginning, the alliance will be available to Just Eat users in Madridwho will be the first to try this new home delivery service, however it is planned to expand the delivery strategy to other regions of Spain, with the ultimate goal that the 3 million Just Eat users have access to Pascual products quickly and efficient.
"Become the first manufacturer to have its own space in Just Eat Spain is a boost to our commitment to quick commerce, that opens a new way of understanding home delivery. At Pascual we work continuously to adapt to the needs and tastes of consumers; as well as their way of accessing products, goods and services. This alliance between two leaders, who share values ​​and objectives, will allow us to continue adapting to a market in continuous evolution, expanding our sales horizons", said Javier Peña, CEO of Pascual.
Just Eat adds Pascual to its catalog of 27,000 establishments
Pascual exports its more than 200 products to 53 countries outside of Spain and its main activity is the preparation, packaging, distribution and sale of dairy products, natural mineral water, vegetable drinks, juices and coffee. The alliance contemplates that for the coming months, Just Eat will offer more Pascual products at home such as energy drinks, oils, pasta and sauces.
The incorporation of Pascual joins the more than 27,000 Just Eat partner establishments, that includes more than 90 major restoration brands. The platform has a presence in 2,800 municipalities in Spain, currently covering 95% of the nation's territory.
Pascual bets on quick commerce with Just Eat
According to Javier Peña, General Director of Pascualthe alliance represents an additional effort to promote quick commerce within the companyIn addition, its mission is to meet the needs and consumption habits of the company's customers. Meanwhile, Patrik Bergareche, General Director of Just Eat Spain, pointed out that the collaboration will benefit the two companies but, above all, the users, who will have their products quickly.
"This union with Pascual, one of the largest manufacturers in Spain and a leading brand in its sector, reinforces Just Eat's commitment to leadership in offering quality to consumers. We are convinced of the success of the collaboration, offering our users an interesting offer of dairy products and derivatives from the manufacturer directly, and for this we have one of the best known and emblematic partners in the sector of food in Spain", he said.
Image: Just Eat.
Stay informed of the most relevant news on our Telegram channel