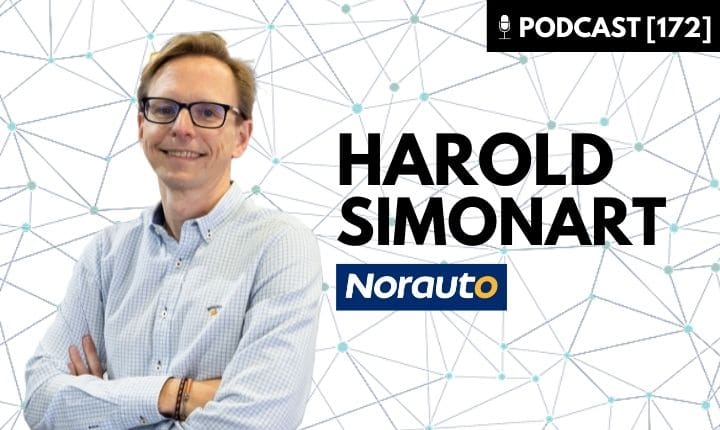 In this week's program we are going to chat with Harold Simonart, director of eCommerce at Norauto Spain. It's a very interesting case. first digitization of a vertical that in principle is very offlineLike car workshops.
And second, from service productization. They have a shop for spare parts, wheels and car products, but also workshops and it is very interesting how they manage to bundle things so that it is also easily comparable through the web. Hit play!
⭐ Show Sponsor: Channable
Norauto makes a strong commitment to invest in Google and it is essential that there is an optimization of product feeds. And for that Channable is magic, poetry. It improves the information that flows automatically to the ad copy, allows you to make dynamic ads that vary in real time such as prices or stop if there is no availability in the store. Check it out and try it for free at channable.com.
Interview with Harold Simonart(Norauto)
03:10 Tell us how was the road to get to Norauto?
I have over 20 years of experience in digital. I started my career as a businessman in Brussels, doing my Erasmus in Malaga, which became my first link with Spain. When I finished my degree in 2000, I was lucky enough to start working directly in digital with a great group. From here I worked in several companies and agencies within the sector; then I started in eCommerce with Fnac Darty where I was in charge of the company's Belgian subsidiary. But after spending 12 years here, I felt like I was in my comfort zone and decided to move on.
Then I took care of the eCommerce of a perfumery in Belgium, Holland and Luxembourg. Since my Erasmus and a master's degree that I had taken in Barcelona, ​​I had the idea of ​​returning to Spain. Finally, I was lucky enough to receive the call from Norauto a year and a half ago, with the proposal of a project that I was very excited about. Now I am here at the headquarters in Valencia, and I am in charge of all the digital issues of the company for Spain and also of the relationship with clients.
07:25 Introduce us a bit Norauto What is it and how is its digital part structured?
We are car workshops and stores, we have around 90 stores throughout Spain. Although the image we have is of the workshops, we have much more, including many products for cars and new mobilities such as electric scooters, bicycles, etc. Facing the new mobilities, each time we have a broader catalog of products, clearly showing itself to be an important growth vector for the company.
Regarding the issue of digitalization and eCommerce in Norauto, it has several sides. At least in the workshop area it tries more to help you choose the best service for your car and schedule an appointment, in this way the greatest weight of the experience is in the workshop. But even so, it has the typical side of eCommerce where you buy a product on the web and we send it to your home.
09:15 To dimension What does the digital front mean for Norauto in terms of: billing, equipment, conversion rate, etc?
Norauto is part of an international group called Mobilia, present in different European and Latam countries, so different things happen in this international scene. The team we have locally is a bit small in the field of eCommerce, at least in my team we have about 6 people with more digital and/or commercial profiles. Our work focuses more on the digital aspect, making the range and teams think in a more omnichannel way, because the customer is also the customer.
The global invoicing is a somewhat confidential data, but we are clearly above 10% and the sector is very strong. Since according to market data, this generally moves between 5% and 6%. Secondly, The target online billing for this year is to exceed 20 million euros.
as we are in a very omnichannel commerce, the conversion rate can be shown a little lower compared to other eCommerces. So we are at 1%, and one of my goals for the coming year is to boost this conversion.
44:30 What is your marketing strategy to promote the Norauto theme?
Regarding digital marketing, we focus mainly on marketing segmentation and personalization and we are also in a process of diversifying the levers. Since currently most of the budget is in Google, but we want to diversify more.
Once again we return to the omnichannel theme, and more and more we are piloting Google campaigns at this level. Google allows us to generate campaigns from two different optimization algorithms. The first, the usual classic algorithm, which is based on online sales and focuses on maximizing online ROAS; and a second version in charge of maximizing omnichannel ROAS.
50:50 What are the challenges of 2022 that you sense for Norauto?
The truth is there are several challenges, the first would be to be able to measure what does what we do at an omnichannel level really contribute, that I see it more as a project than a challenge. In this case, we could take on the challenge from two fronts: what omnichannel really brings and the evolution of how it brings it.
On the other hand, the second would be sContinue with the digital transformation of the company. Norauto is in a fairly traditional sector, so there is a long way to go in changing mentality towards the fields of omnichannel and digitization.
Stay informed of the most relevant news on our Telegram channel