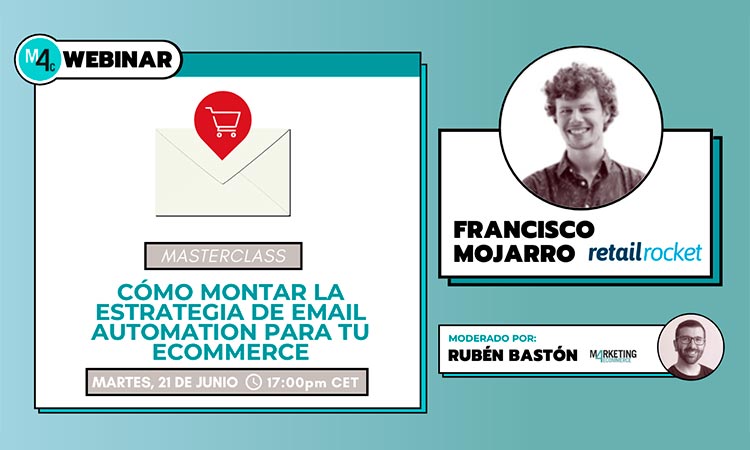 The main objective of e-mail marketing is to guide potential customers through the conversion funnel, and increase their recurrence and loyalty and the brand. Therefore, it is essential that all ecommerce consider this strategy in their marketing plan. Email marketing automation refers to the use of specialized software to send emails automatically.
Email marketing automation campaigns achieve greater profitability by saving on operating time. Among the benefits of this strategy we have:
It enables the detection of the users most interested in your product or service and, therefore, firm candidates to receive a more direct commercial offer. It is a fully configurable option. It allows you to have a conversation with your subscribers, so that contact is maintained from the beginning until they finally buy. I'm in for the Webinar!
How to set up the email automation strategy for your eCommerce from the same platform
So that you can discover more about this field, we invite you to join us in a new version of our M4Cwebinars next Tuesday, June 21 at 5:00 p.m. (CET)in which Francisco Mojarro from Retail Rocket, will give us a masterclass in which we will learn directly how to set up the email automation strategy for your eCommerce from the same platform.
In this masterclass we will learn
How to start planning an email strategy for ecommerce and what to keep in mind. Types of email marketing that exist. How is this done from a tool like Retail Rocket: email types, segmentation options, retention matrix, etc. Customization of shipments. How to prevent the same user from receiving too many impacts. How to work multichannel (sms, app push notifications, web push notifications, etc). I'm in for the Webinar!
This will be a webinar full of learning for both eCommerce greats and companies that are beginning to find their place in the wide digital world. sign up now! Remember that it is a free event that you should not miss.
Stay informed of the most relevant news on our Telegram channel