Logitech G933 software, drivers & firmware update: Are you having trouble configuring the G933 Artemis Spectrum RGB headset? Every high standard gaming headset requires software to configure it, so today I will guide you on how you can download and install the software of this headset from its official website.  Its manual mentions that you will need Logitech gaming software to configure 7.1 surround sound, lighting configuration, and G-key programming. This headset is featured with Logitech G LIGHTSYNC technology, which gives the lighting effect according to the action of the game and you can do this with the help of its software. You are probably wondering from where you will get this software and how can you download it, which operating system does it support. Today I will give you complete information about this so that you do not face any problems. So, let's read the tutorial.
Also read,
Logitech G533 software and drivers for Windows 10 and Mac
What is Logitech G933 software and driver?
Before downloading Logitech gaming software for the G933 headset, you need to know what its work is and how it works. This is a gaming headset, so it will have the G-key, and software is required to programming it, our software configures the G-key of the headset and as I said earlier it does 7.1 surround sound, lighting configuration too. It is seen that Logitech gaming software and G HUB both can configure the G933 headset. The G HUB software is also a product of Logitech. So, let's learn how to download and install both software.
Guide on installing Logitech G933 software in Windows 10 and customize it
As I said earlier, The G933 Artemis Spectrum RGB headset is compatible with both Logitech Gaming software and Logitech G HUB.
Firstly, we will discuss the steps to download and install Logitech Gaming Software.
You need to visit https://support.logi.com/.
Then, you have to choose your device from the list and go to the "Downloads" section under that.
In Downloads, you will find "Logitech gaming software".
Click on the download button to download the software. After downloading, double-click on the downloaded .exe file, and a "welcome" window will appear.
Now you will see the installation process. It may take some time, you wait until it completes.
After this process is complete, you will see a "thank you" page and will ask you to restart the system.
And after the system is restarted, the G933 headset will appear on the software welcome page.
G933 headset customization guide:
It is very easy to customize it through this software.
On the Welcome page of the software, you will see the headset. You have to click on the headset and after that, the headset setings will appear.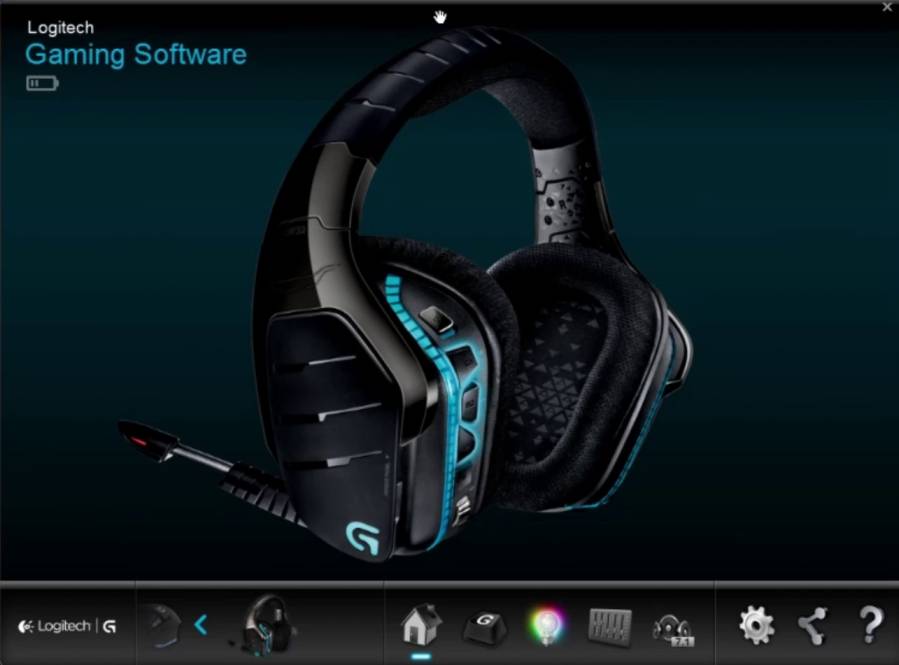 Adding commands to G-Key
You will see the default commands in the programmable buttons, you can customize them. To add a command in G-Key (programmable buttons), all you have to do is drag and drop the commands to the G-Key.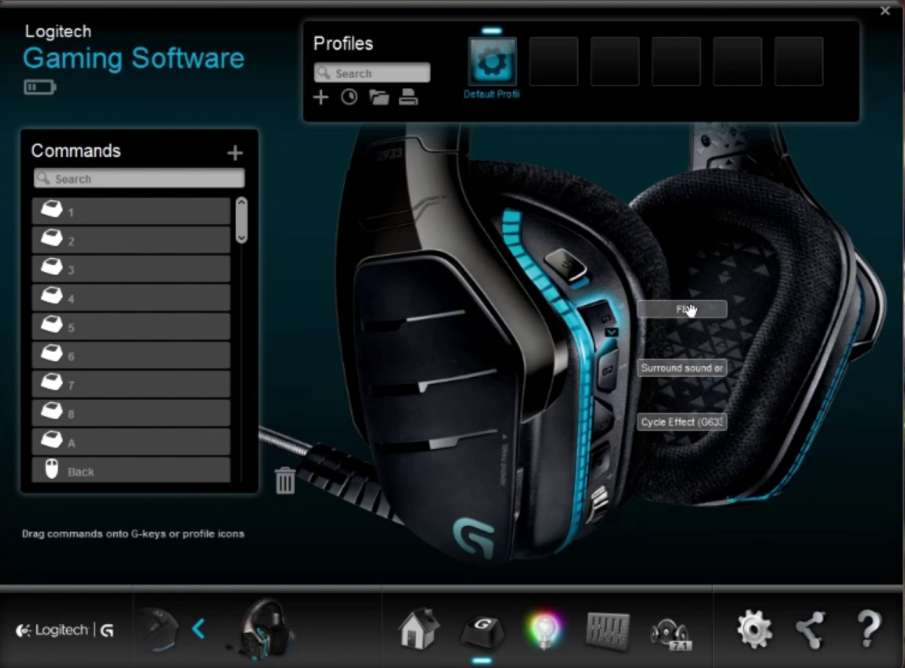 Customize lighting effect
Below you will see the icon of the bright bulb, you click on it, now you will see the settings of the lighting effect. In this setting, you can turn on and off the lighting effect and you can decrease and increase the brightness level of the light too.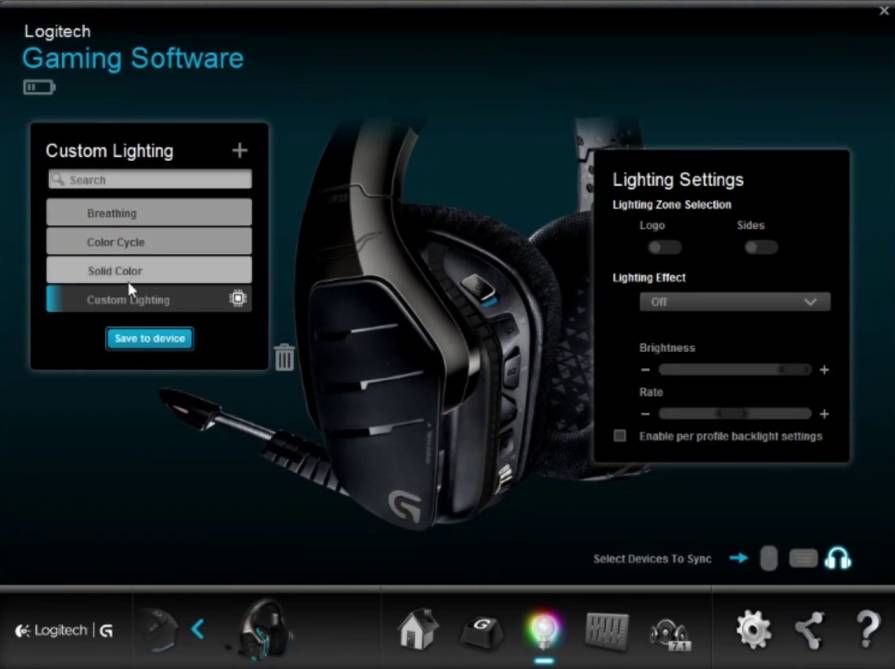 Equalizer settings
Below you click on the Equalizer icon, you will see the equalizer settings as soon as you click it. Now, set the Equalizer lever as you need. If you do not want to tamper with the equalizer setting, then it also has other custom equalizer settings.
Surround sound settings
You will see the soundbar icon next to the equalizer icon. Now click on it, you will see the setting of surround sound, now, you can mix the sound as per your choice
Steps to download Logitech G-Hub
You need to visit https://support.logi.com/.
Then, you have to choose your device from the list and go to the "Downloads" section under that.
In Downloads, you will find "Logitech G HUB". Click on the download button to download the button. After downloading, double-click the downloaded file.
A windows security alert window will appear. You need to allow access and start the installation.
After installation, you need to launch G Hub on your device.
What to do when Logitech gaming software G933 not working in Windows 10?
If the Logitech G933 Headset is not working in Logitech gaming software, then, try Logitech G-hub software instead.
You check whether you are using an outdated version, if you are using outdated software, then update it immediately and after updating, check whether it is working or not.
If it is not working, then you check that your USB port is working properly or not, it is better that you change the USB port.
The problem always appears in the window that the USB drive missing, it is very difficult to fix it manually if you are not a techie. The Iobit Driver Booster 8 PRO software is very useful for me, with the help of it I can update any missing driver and so, I never get to see the not recognized issue or driver error. Use coupon "L6RG2TZQZM" to get an additional 10% discount.
How to Update Logitech G933 software?
Steps to update Logitech G933 headset driver
You need to visit https://support.logi.com/.
Then you need to visit the downloads. There you will find your downloaded driver with the updated version if updated
After downloading, double click on the file and click on install to start the process.
After this process, click on the finish button to complete the update. If you find the above
If you find the above mention steps are going complicated for you, then, try Iobit Driver Booster 8 PRO, it can update any driver and software in a click. Try Iobit Driver Booster 8 for
Support updating 4,500,000+ PC drivers;
Game components updating for the smoother experience;
Automatically update drivers as scheduled;
Fast drivers download speed;
Automatically backup drivers for secure restore;
Priority to update Game Ready Driver for better gaming;
Fix your device errors for safer PC;
Logitech G933 gaming headset features
Getting confused about the features of the Logitech G933 gaming headset. In this section, you will have a satisfactory explanation of all the features of the G933 gaming headset. Every teenager has a keen interest in this Logitech G933 Artemis spectrum headset. With this headset, they have a complete feel of gaming surrounding.
Here, we have enlisted highly upgraded features of the Logitech G933 gaming headset along with a brief explanation:
"G933 is one of the best wireless gaming headsets you can buy." by PCMAG.com
G933 gaming headset includes an advanced Pro G audio driver. For better and higher performance, these audio drivers are mainly made out of mesh-like materials. This helps to get the clarity, rich bass as well as accuracy of the sound.
Logitech G933 gaming headset is also known as Dolby headset with an incredible experience of 7.1 surround sound. This feature allows you to hear from your enemies during playtime.
The 2.4 GHz wireless feature makes the G933 headset an ideal gaming headset. You can use this headset in both wireless and wired. Firstly, if you use it wirelessly, the charge will last for 8 hours along with the default light and 12 hours without the light. Secondly, if you use it as wired, then there is no need for charging. Plug one end of USB to your device (mobile, PC, or console) and another end with the headset.
Logitech G933 Artemis Spectrum gaming headset has 6 G-Keys which can be customized with Logitech G933 software. The 6 G-Keys are Wireless on/off, three programmable keys (G1, G2, G3), a microphone mute button, and a volume control switch.
G933 headset can connect up to three devices at a single time. It has the feature of mixing the output sound from three devices.
This headset also has an amazing feature of two RGB lighting zone; one is the "Logi" logo and another is the light strip. These lighting zones are customizable with the help of Logitech G-HUB.
Logitech G933 Artemis Spectrum has a noise-reducing boom-mic that provides clarity to the sound. This boom mic is foldable back to the headset when there is no use for it.
Software download guide for G933
As I said earlier, I will teach you how to download software from the official website. I have told you in the installation process how you can download the software. If you are having any problem with this, for your convenience, I am providing the download link of the official website below. I recommend to my user that if there is any software for Logitech product, then you should download it from its official website and also do not download it from any third-party website.
Also read,