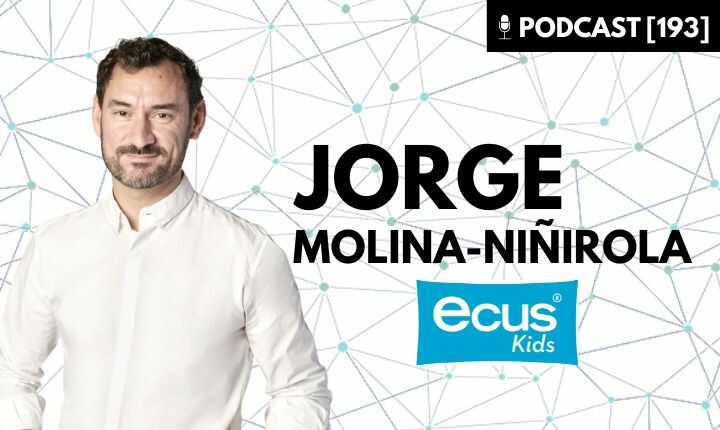 In episode 193 of our podcast, Jorge Molina-Niñirola, Product Manager of Ecus Kids, tells us about the rest sector, more specifically the children's sector. He explains to us what Ecus Kids is, and the other Senttix brands; of their Khama in which they design mattresses adapting to the needs of the consumer; of online and offline sales; internationalization; his experience with selling on Amazon.
⭐ Program Sponsor: Doofinder
I wouldn't miss it if I were you because, in addition, it explains the marketing actions they carry out on their website, their work with influencer campaigns and their future challenges.
6:03 For those listeners that we caught clueless, tell us what is Ecus, and its Ecus Kids section?
Ecus Sleep is the company name, we are in a process of change towards Sentix. Ecus began as a manufacturer of double mattresses almost 40 years ago. The usual thing then was to buy a large foam block and transform it. We are committed to innovation and we started the pocket spring, springs that go inside some bags making the beds independent.
When I approached them, by chance they had just finished a study with a company in Valencia, where they had segmented the different moments of purchase of mattresses during life of the person, identifying childcare, geriatrics, hospitality and the moment of change at 40, 45 years. So at that point, I had a proposal that matched a space in the market that they had already seen, but they weren't sure how to go about it.
The company has 4 brands: Senttix, a general mattress marketing firm; Khama Hotel, which manufactures and sells rest equipment for the contract sector (hotels), this is the most important; and Ecus Kids, a brand dedicated to children's rest, that is, mine; Khama, an online mattress sales brand, a very nice project. The latter is very innovative, where you can basically customize the firmness of each of the sides of the bed, in case you want a firmer side or a softer side.
The adult mattress has more volume and weight in the company because my most expensive crib mattress is 300 euros, while the cheapest adult mattress is 300 euros, so in terms of volume it will cost us a lot of work to reach the other company lines.
11:22 I'm looking at Khama and the honest price comes up, tell me what it's about?
This is a trend that we have identified in the market, we try to be honest with our offer, we want our clients to understand that we are a company and we need to make money, but that we do not want to rip them off.
In Khama they are aimed at the final consumer, but in Ecus Kids we have different sales channels and those channels have their own margins and we do not feel we have the authority to reveal the margins of the channels, they are very sensitive issues.
Our goal, beyond money, is a quality product that is part of the change to a better world. When we started, we thought about making mattresses with viscoelastic, foam and that's it. But then we thought about the needs that babies have and how we can help them and we decided on brachycephaly, when the baby's head is flat on one side, causing the brain not to develop well and may even show psychomotor problems, otitis media, torticollis, intelligence problems.
We began to think about how we could help them and we saw that reducing the pressure on the baby's head would achieve this improvement. So we managed reduce pressure up to 70% compared to other foam mattresses. We started testing it, we used a bunch of moms as testers and we looked at the results and we noticed that no babies sleeping on our mattress from the start had brachycephaly. Those who had been diagnosed, the 85% of cases had improvedoy the remaining 15% had not been worse.
We were looking for someone to certify that the mattress had a positive effect on health, we got it with the Spanish Agency for Medicines and Health Products. We first launched it in the pharmacy, but we made a mistake, we managed to sell it but very little. We opened the childcare channel, where it started to work very well. In the end, we all want the well-being of our children and this is not much more expensive than a normal mattress.
19:50 Now my fetish questions: key data (that you can share with us) so that our listeners can measure the brand. First of all, the team you have (in general and in Spain)
We have the matrix, Ecus Sleep where we are 150 people, each one in an area. The Ecus Kids team, this is the first month that I have 100% dedicated resources. Previously, it was me with little bits of the rest of the Ecus team. Now we are three people and we outsource many tasks. For example, the communication part, paid media, graphic design, web development issues, almost all of them are small agencies or freelance.
23:41 The next one would be: how do you manage the team?
We use the scrum methodology. We have three work teams: one for communication, another for products and another for retail. We do a 2-week sprint, in which the tasks are defined and we start working on that. We plan everything by quarters, objectives, main actions and the follow-up of numbers is taken to the year.
We try to be very agile, we are proposing actions that we can finish in the quarter, we plan them to do it as quickly as possible and before the end of the quarter and be able to replan.
We use Teamwork, as a project manager, and with the blackboard mode we go through the tasks. Tasks are babies and we have them in different phases: when he is asleep they are tasks that we are going to do, even if we are not working on them; when he's awake they're the ones we're working on and happy babies are chores done.
28:44 What are the markets in which you have a presence?
We are working mainly in Spain, where we sell the most. Portugal too, but it is a very close foreign market, almost an internal one. We are working on France, starting without difficulty, but not with the speed that we would like. And we have a super ambitious project in the United States.
To give you an idea, The sizes of the markets are valued by the number of annual births And it's not that it's super reliable, but since there isn't a panel in our market that can tell us, we use the number of births and the number of children per family and say how many first babies are born in each market and get an idea.
36:47 What is the annual turnover of Ecus Kids
Last year we made 3 million euros and, this year, we hope to close with 4 million. And it is something sustained, the year of the pandemic I think we did 50% more, because our project is very online and confinement came in handy. Babies are still being born, moms still need mattresses and since they couldn't buy them in physical stores, they were going to buy from Amazon, or our website. In March 2020 we multiplied all the goals.
37:32 What is the average basket of your website?
Approximately 250 euros, but we also have a category that raises the average ticket a lot, which is a child's mattress that is between 300 and 450 euros.
38:34 And the conversion rate?
We got it pretty high over 2% in Spain.
40:01 What is the percentage/difference in the results of online sales and offline sales: do you win online or do your customers prefer a physical store?
We have four online groups: Amazon, our website, El Corte Inglés and retail stores. Sales on Amazon and our website represent approximately 65%, El Corte Inglés 25% (more or less) and the rest are small chains.
And you have to think that our consumer is mostly millennial and generation Z and have other consumption habits. In addition, the mattress is something that is valued more, like adult mattresses, 20 or 25 years ago the mattress was given to you with the bed. Now you buy the mattress and, if you have money left, you buy the bed or you have it on the floor on a piece of cardboard because you give importance to the mattress.
43:50 Between Amazon and your website, how is it distributed?
Amazon sells more than us. Amazon will sell more or less 80% more than our website, because Amazon what you have are customers who buy everything on Amazon, we would have to bring those customers to our website.
47:02 When there's a correlation between retail and online, we always talk about channel conflict. Do you notice some tension?
That problem exists, but I think it's because we see what we do, but we don't see what they do for us. Everyone thinks they are losing sales, but we have found that a product works better when it is everywhere, that is, all channels add up.
We have had exclusive retail products and they don't work, but we have launched them on our website and on Amazon and it works everywhere. Similarly, we had exclusive products for sale online and in the physical store it did not work. That is why omnichannel is fundamental, because if your product is good, it has to be everywhere.
50:14 Regarding Amazon, is the growth organic? What levers do you use?
Amazon is so much fun, it's like playing a video game. You have to understand that you are fighting against an algorithm and you have to learn what he values ​​in order to try to be as attractive as possible to him. Value that you do campaigns with them, discount campaigns, that they participate in their events, that you have stock, that you are reliable in deliveries.
52:08 At the marketing level, what actions do you practice for the web?
Mainly influencers and paid media, especially on Google. Although it depends on the market, in Spain Google Adsense and shopping is what works best because people look for us, but in France nobody looks for mattresses for brachycephaly, so we go more to social networks.
52:38 Do you use influencers in specific campaigns or are you looking more for the concept of brand ambassador?
We are looking for more ambassadors. Little by little they become a little more professional, in addition to realizing that they have to provide a correct service to the brands and they have to make an effort to add value. Because if you don't stay in a punctual test. I mean, I can pay you 200, 300, 400 euros for a post but if it doesn't work for me I'm not going to hire you anymore.
54:03 Do you measure influencer campaigns to sales directly?
We try to be honest with them. They know what traffic is coming from their campaign and the conversions they have. It has also gone from customers who search by discount code and then they collect commissions.
55:12 What kind of influencers do you work with? massive?
We can't afford it yet. Normally all these that are in the world of decoration, they become pregnant and we see how their message towards pregnancy and motherhood changes. Also those of healthy habits, of food, but always related to the phase of having children because it is much more sensitized and everything that they are transmitting to their public, they adapt it to children.
59:29 To finish, what challenges do you have in Ecus for 2022/2023?
We want start selling outside of Spain. We have started to sell last year, but very timidly, we would sell 2 or 3%, not counting Portugal.
When we started from scratch, the challenge was to get the stores to understand the product and for us to be an interesting brand for them, and once you achieve that, the project goes on, you just have to repeat. Now the challenge is to start in foreign markets, we try to get France up and running how it has to work, so that in about 2 or 3 years we can have a market estimate with which we can say: we need so much money to enter China. We are working on a business plan to seek financing, because we have realized that it is a very internationalizable project and the fact that the market is small makes it more attractive, because there are no big competitors.
Stay informed of the most relevant news on our Telegram channel