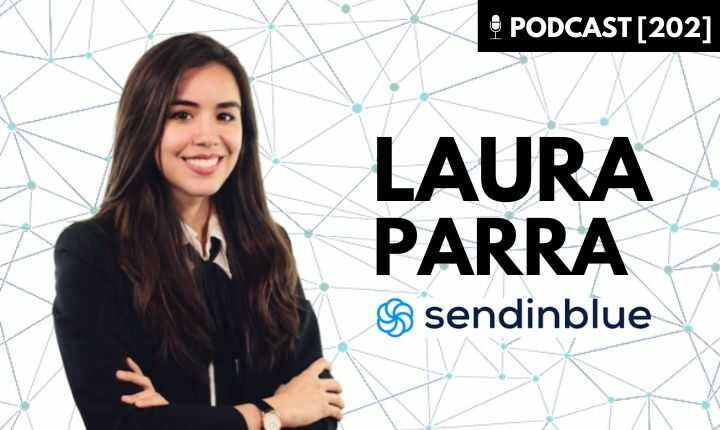 This week we will talk about omnichannel, or at least how to find it. For this we are going to chat with Laura Parra, Brand Manager of the all-in-one shipping tool Sendinblue.
sendinblue started focused on sending emails and it has been expanding to become a CRM, and from there integrate customer communications via email, but also by chat, by SMS, working with advanced recruitment forms… Let's see with Laura how to combine the points of contact with customers to achieve the best possible results.
⭐ Program Sponsor: SeQura
Interview with Laura Parra (sendinblue)

6:12 Tell us, for those who don't know, what Sendinblue is and what services you offer for SMEs.
Sendinblue is a digital marketing and sales platform "all in one", that is, it is designed to help SMEs manage customer relationships across all their digital channels.
The platform has from email marketing to the most advanced multi-channel marketing features And that's the most important thing: we have a wide range of tools and functionalities that are affordable (to help SMEs stay within their budget) and easy to use.
In addition, our platform is modular, that is, grows along with our users' businesses and is available in 6 languages, including Spanish, as is our customer service.
Sendinblue started as a digital agency, almost 10 years ago. Our CEO noticed a problem many growing small businesses face: most marketing tools are designed for large companies and at a price for an established or multinational corporation.
9:10 What size do you have, at the team level, customers, billing…?
The platform serves more than 400 thousand clients around 180 countries, which are companies of all sizes and sectors. around youn 45% of companies using Sendinblue are SMEs. Approximately 2.5 billion emails are sent from our platform every day.
As for the team, we are more than 600 employees currently, of more than 50 nationalities and continues to grow. We have 7 offices around the world (Paris, which is the main one, Berlin, Sofia, Toronto, Seattle, Noida and Bengaluru).
11:32 You were born focused on email. Now your metatitle is "all the tools in a single platform", what are those tools that are integrated?
sendinblue was born as an email marketing tool in 2012 and it has grown tremendously in recent years, as we have not only expanded our global presence, but also developed new products and functionalities as you mention.
Sendinblue's main mission remains the same: empower SMEs to strengthen the relationship between them and their customers on all digital channels. For this, in addition to email, we offer SMS campaigns, online chat, CRM, Marketing Automation, Transactional Emails, Contact Forms, Landing Pages or landing pages and functionality for Facebook Ads. Our platform has very powerful contact segmentation and management.
Automation is a very powerful tool, almost without limits. At Sendinblue, the features work very well with each other and the idea is that you can take advantage of everything. With automation you can choose to send an email, send an SMS, set a reminder for your sales team, to promote the omnichannel strategy and choose the most relevant means and message to contact prospects.
Right now we have a chat Tool, which in my opinion is essential, especially in customer service, which is very easy to integrate and in fact integrates with different channels, such as Facebook and Instagram, so that the team manages all the chats from the same Sendinblue platform, without having to to switch from one platform to another.
14:54 SMS still working?
Of course they still work! It is a channel that is still in force, especially considering that users access most of the digital channels from their mobile: emails, social networks, WhatsApp, applications. SMS marketing has great potential, but you have to use it carefully, because it is considered a more "private" channel and you have to be careful not to be too invasive.
In eCommerce, text messages continue to be a key channel, especially for transactional communications and updates. SMS generally have high opening rates precisely because of the privacy of the channel, in email the average is between 20% and 60%, with SMS it is 97-98%. This is because it is seen as something a little more urgent, and we also receive so many SMS per day.
For this reason it is also a more immediate channel, because since they are short messages, one knows that when opening it it won't take long reading and the call to action is going to be very clear. Depending on the number of attributes and the behavior of past actions, you can choose which channel would be more relevant to communicate with.
We have many customer case studies where identified friction points with some channels. With a client, we realized that SMS worked for them at the end of their client's life cycle. Because people knew the company, the message was not intrusive and generated a high level of retention.
19:58 Is the data of all the actions you do integrated?
This is closely linked with CRM and with a strong segmentation tool, where you can see all the attributes of a contact. Sendinblue's contact information page is very complete, you can see if a person received an email, if they clicked, all previous meeting notes, calls, documents uploaded to the client's profile. From this information, you can generate more complex automation flows to choose the most appropriate channel to contact them.
In the segmentation part, the omnichannel strategy is very relevant, because the more specific the segment, the more impact the message sent will have. But beyond a specific channel, it is to ensure that the information is homogeneous and useful. Nor is it about being on all channels, but about orprovide a good experience in which the brand uses or has a presence.
As for the channels that work best, that too It depends on the industry and the product or service that the company promotes and the stage of the journey. But in my opinion, nowadays emails (whether promotional or transactional), social networks and a web presence, even if it is a landing page, could be considered basic.
21:56 What targeting options does Sendinblue allow?
The number of filters you can add to it in Sendinblue depends on the number of attributes you want to add to a contact. For example, you can see if the customer came from your newsletter, social networks or from the website.
The acquisition channel also changes a lot the way of tracking, if they made a purchase, if they are a potential or current customer, when was the last time they made a purchase, if they have interacted with your campaigns. Anyway, you can filter by any type of attributedepending on your product and your company.
22:08 Looking at the page, there is a section "Spread the word to your contacts" and the inbox option appears, What is this?
The inbox is a functionality where you can manage in one place all the email inbox you have, like a community email, just like social network chats.
Transactional emails cannot be ignored and you have to work hard on them, especially if you are an online store, because the customer experience depends on them. Something so simple can generate a lot of frustration, because if you buy a product and you don't receive a confirmation email, you don't know if the purchase was successful, you doubt if the card was charged.
Also, this is a email that people expect, transactional emails have a lot of potential to create a repurchase or to send useful material to the user, depending on the product, such as user tutorials.
32:05 Regarding ads, with the possibility of segmenting, do you sync directly with Instagram and Facebook to take advantage of the customer database?
With the contact lists in Sendinblue that you have acquired, for example, from the subscription of a newsletter, you can create notifications Facebook directly on the platform with our Facebook ads functionality to show those contacts, or even create lookalike audiences.
Thanks to the fact that in B2C business models, it is common for people to register the same Facebook email, within virtual stores, it is easier to make ads for this platform, because there is no better potential client than the one that looks like the one you currently have.
You can also take customers who interact very well with email campaigns and test them with Facebook campaigns, to see if both channels work the same and compare which features are best for each segment.
39:56 What measures are there within the platform to avoid the risk of impacting the user through various channels?
This part is handled by customers They need to work on strategy, understand their prospects' journey, and understand when is the best time to use a certain channel and what message is going to be used.
Likewise, at this point they should use automation, let the software work for them and focus on your strategy, your content, and the things that are really more important than sending one email at a time.
For this we have a accompanying blog, where the strategic part of how to use all the channels is explained. We also have an academyavailable in English and French and many tutorials on how to get started with email marketing, automation and the rest of the channels, to create that solid omnichannel strategy.
47:12 How do you think the contact between brands and users will evolve?
Have a strategy and strong cross-channel operations will always be a winner. It's something that customers already take for granted from brands today, and if your company doesn't offer a good omnichannel experience, it can be a disadvantage.
Today it is not enough to cover a single channel to communicate with a customer. During the purchase process, the current consumer uses different media and devicesand sometimes simultaneously (we see it in the typical retail example of customers in physical stores checking the online price of the same product)
I think having a strong omnichannel marketing strategy it will continue to be the norm, especially for those businesses with a strong digital presence. It is true that it involves a lot of organization, in which all areas must work in coordination to achieve favorable results, but in the long term it can bring a wide variety of benefits to the brand.
In terms of trends, we just carried out a survey last year to identify changes in consumer behavior since the pandemic began. One of the most important things is that consumers today are looking for more closeness and connection with what they consume, buying local brands has been on the rise.
In terms of channels, email continues to be the favorite channel for communication with brands of almost all generations, except for generation Z, who prefer Instagram. The part of privacy and data management is also more present now in the minds of consumers, now there are more concerns or questions about how brands use this personal data. However, more than 80% of respondents agree to give this information in exchange for an incentive such as a discount.
Another trend I see is that the content nowadays, especially in social networks is shorter Y spontaneouswhich I think will start to be reflected in other channels, in the way we present content for example.
Stay informed of the most relevant news on our Telegram channel