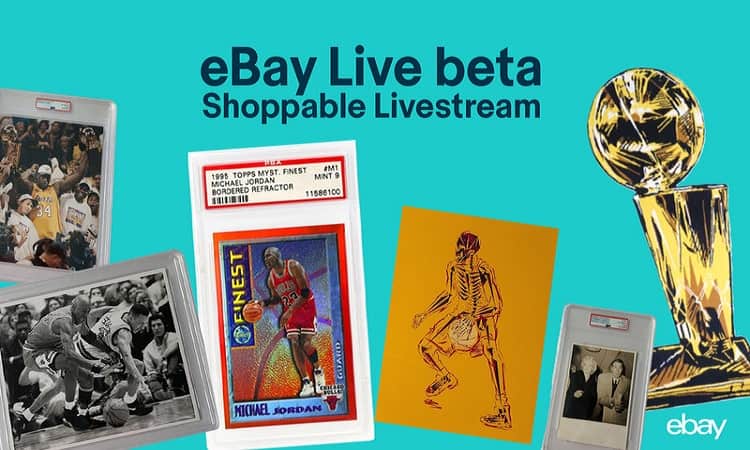 If we talk about the purchase of collectibles in the online ecosystem, without a doubt one of the biggest references would be eBay. This platform, with more than 25 years of experience, is proposed as one of the places par excellence for collectors to find any piece they are looking for. Comprising thus from old coins and sports cards, to figurines and comics. And now, in order to continue maintaining a meeting space for buyers, which is adapted to current trends and needs, eBay has announced a new platform for your buyers, eBay Live.
eBay joins the world of live commerce
In recent years, live streaming commerce has become a widely accepted trend in the e-commerce ecosystem. Starting from a strong Asian market, we have seen how little by little it has managed to adapt to the western market, hand in hand with giants of the digital ecosystem such as: YouTube, Facebook, Instagram, Pinterest and even Twitter, platforms that have explored this new eCommerce model. from its character of social networks.
Likewise, there are several marketplace platforms that have used these live online sales as a tool, such as Laagam, MediaMarket, Zalando and, of course, eBay hereinafter. The integration of this platform gives eBay a renewed scope, offering both its consumers and sellers a more attractive and interactive space for their commercial activities. This, according to what was expressed by Dawn Blockvice president of eBay Collectibles, Electronics and Home, in the company's own statement.
"As the collector community grows, we offer a new live platform that combines an engaging environment with incredible ease, allowing our community to come together around shared interests and merchandise. Currently in beta phase, eBay Live will offer a more streamlined, entertaining and sophisticated way for our community to connect, buy and sell«.
eBay Live presents its first event from one of its best sellers
Although it was presented in a beta phase, eBay Live held its first live commerce event a few days ago, with Bleecker Trading as the main participant, one of the most important sellers on the platform. Taking place on June 22, this inaugural event featured several iconic collectibles, most notably a '95 Michel Jordan card and a '98 Kobe Bryant card.
As eBay explains in its announcement, this new platform will provide consumers with a shopping experience similar to a physical store; proposing a live and interactive space. For this, the platform will have a chat to interact directly with sellers and reaction buttons, which will promote a more fluid purchase process. In the same way, consumers will be able to purchase any product exposed in the live stream directly through it, and they will be able to access it both from the eBay mobile application and from its website.
Finally, we can highlight that this is not the only innovative bet regarding platforms that eBay has made. Since, at the beginning of June, it launched its card vault, a space designed under the highest temperature and security standards for the protection of collectibles; and in which users will also have the opportunity to access and view the products, also serving as a digital marketplace.
Image: eBay
Stay informed of the most relevant news on our Telegram channel