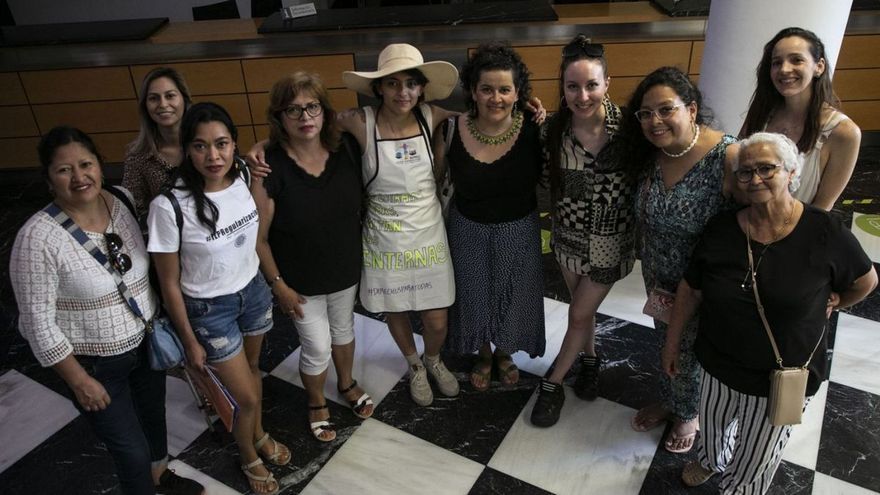 It is the beginning of the end. Specifically, the end of the "infrarights" of the domestic and care workers sector. As of today, a new stage begins so that female employees (more than 95% women and more than 60% migrated) can access labor rights as basic as sick leave, maternity leave or any other benefit as workers. Until now they were out. Because they didn't even figure like the rest in the Workers' Statute. Now they will be able to apply the occupational risk prevention law to their jobs and they will have the right to form a union and negotiate an agreement.
The Congress of Deputies yesterday ratified Convention 189 of the International Labor Organization (ILO) on the rights and duties of domestic workers after eleven years looking the other way. With this regulation approved, which must now go through the Senate, the (non-existent) rights that this group had until now will be equated to those of the rest of the workers.
"We are excited and expectant but we are aware that we will have to continue pressing for the work that sustains life to be valued," explains Marcela Bahamón, spokesperson for the Intercultural Association of Home and Care Professionals (Aiphyc), who speaks with this newspaper within the framework of a conference organized by Oxfam Intermón held this Thursday in Valencia to break down the keys that will make the care policy a reality.
"We have made a historic breakthrough. It means that Spanish society is no longer retrograde, it will grant rights to all its workers and hopefully it will stop violating the human rights of its intern workers", he continues. Until now they were outside any protection and discriminated against three times: "by gender (95% are women), by origin (65% are migrants) and by social class (before immigrants took over, domestic workers were women from the rural world who worked in the cities)", explains Marcela Bahamón. But this progress will not be immediate. After ratification, it will have to go through the Senate and be published in the BOE and until then, domestic and care workers would continue under the 2012 Royal Decree approved by the Government instead of applying 189, a rule that has sentenced them to precariousness for more than a decade.
Minister Yolanda Díaz has opened the possibility to the groups of applying a royal decree law so that they already have unemployment benefit and other basic benefits. Oxfam's data is clear. There are 400,000 domestic and care workers in Spain registered with Social Security, and it is estimated that there are 200,000 without papers, 600,000 in total. In the Valencian Community there are some 32,000 with papers and there is no estimate of how many do not have them. Of all those working women, one in three are at risk of poverty, and one in six in extreme poverty. Still employed.
"Abolish internship"
Bahamón highlights the urgency of abolishing inmate work "because it violates human rights and leaves physical and psychological consequences." Convention 189 is a "historic" advance, but what is missing? For Bahamón, conscience. "The system consumes human lives , belittles domestic workers, but we are the engine of society".